Italian For Dummies, 2nd Edition
ISBN: 978-1-118-00465-4
408 pages
September 2011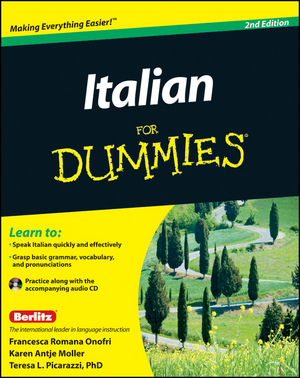 The fun and easy way to take your Italian language skills to the next level
The tips, techniques, and information presented here give students, travelers, and businesspeople a primer on how to speak Italian. Complete with updates, a bonus CD, and the traditional For Dummies user-friendly format, this new edition of Italian For Dummies gives you reliable lessons, practice, and language learning techniques for speaking Italian with ease and confidence.
Featuring a revamped, user-friendly organization that builds on your knowledge and ability, Italian For Dummies offers expanded coverage of the necessary grammar, major verb tenses, and conjugations that beginners need to know. Plus, you'll get a fully updated and expanded audio CD that includes real-life conversations; a refreshed and expanded mini-dictionary; more useful exercises and practice opportunities; and more.
Builds on your skills and ability as you learn
Covers the grammar, verb tenses, and conjugations you need to know
Includes a mini-dictionary
Audio CD includes real-life conversations
If you're looking to reach a comfort level in conversational Italian, Italian For Dummies gets you comfortably speaking this Romantic language like a native.
See More
Introduction 1
Part I: Getting Started 7
Chapter 1: Saying It Like It Is 9
Chapter 2: Jumping Into the Basics of Italian 21
Chapter 3: Buongiorno! Salutations! 43
Chapter 4: Getting Your Numbers and Time Straight 63
Part II: Italian in Action 83
Chapter 5: Casa dolce casa (Home Sweet Home) 85
Chapter 6: Where Is the Colosseum? Asking Directions 103
Chapter 7: Food Glorious Food — and Don't Forget the Drink 119
Chapter 8: Shopping, Italian Style 139
Chapter 9: Having Fun Out on the Town 151
Chapter 10: Taking Care of Business and Telecommunicating 173
Chapter 11: Recreation and the Outdoors 191
Part III: Italian on the Go 207
Chapter 12: Planning a Trip 209
Chapter 13: Money, Money, Money 221
Chapter 14: Getting Around: Planes, Trains, Taxis, and Buses 233
Chapter 15: Finding a Place to Stay 255
Chapter 16: Handling Emergencies 271
Chapter 17: Small Talk, Wrapping Things Up 293
Part IV: The Part of Tens 313
Chapter 18: Ten Ways to Pick Up Italian Quickly 315
Chapter 19: Ten Things Never to Say in Italian 319
Chapter 20: Ten Favorite Italian Expressions 323
Chapter 21: Ten Phrases to Say So That People Think You're Italian 327
Part V: Appendixes 331
Appendix A: Verb Tables 333
Appendix B: Dictionaries 347
Appendix C: About the CD 359
Appendix D: Answer Keys 361
Index 369
See More
Berlitz has taught languages to millions of people for more than 130 years. Francesca Romana Onofri and Karen Antje Moller are veteran language teachers. Teresa L. Picarazzi, PhD, teaches Italian at The Hopkins School and has lived and worked in Cortona, Florence, Ravenna, Siena, and Urbino.
See More