E-book
The New Sell and Sell Short: How To Take Profits, Cut Losses, and Benefit From Price Declines, 2nd Edition
ISBN: 978-1-118-00557-6
368 pages
February 2011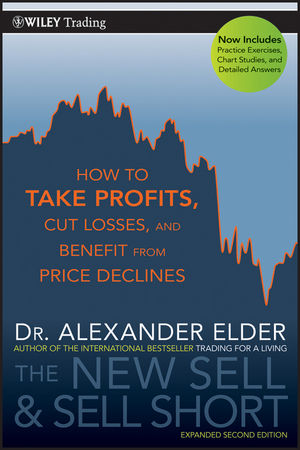 A detailed look at one of the most underestimated aspects of trading-selling
In The New Sell and Sell Short, Second Edition, Dr. Alexander Elder explains how to exit a stock at the right time and how to initiate a short position to profit from a stock that is showing weakness. Often overlooked, selling properly enables a trader to cut losses and maximize profits. Moreover, short selling in a weak market can generate big profits and should be a part of every trader's arsenal of tools. The new edition contains numerous examples of short selling stocks from the 2008-2009 bear market, demonstrating very clearly why traders do themselves a disservice by only focusing on the long side. In addition, the new edition contains an extensive study guide to help readers master the material prior to trading.
Elder shares real-world examples that show how to manage your positions by adjusting your exit points as a trade unfolds.
Contains new examples and insights from the 2008-2009 market meltdown
Includes an extensive study guide with 115 questions and answers and 17 chart studies
Discusses the selling process from a variety of angles: technical, fundamental, and psychological
Explains how to maximize winnings in a profitable trade and how to minimize losses when a trade doesn't go as planned
Offers detailed guidance for traders of stocks, financial futures, commodities, and currencies
Explains how to set profit targets and stop-loss orders prior to entering any trade Other bestselling titles by Elder: Trading for a Living, Come Into My Trading Room, and Entries and Exits
Understanding where and when to sell is essential to successful trading. The New Sell and Sell Short, Second Edition is the definitive reference to this overlooked, but vitally important, aspect of trading.
See More
Introduction xv
WHY SELL? xv
ABOUT THE Q&A xvii
PART ONE PSYCHOLOGY, RISK MANAGEMENT, & RECORD-KEEPING 1
Chapter 1 On Buying 3
THE THREE GREAT DIVIDES 3
ONE TRADER'S TOOLBOX 7
Chapter 2 Trading Psychology and Risk Management 9
YOUR MIND AS A TRADING TOOL 9
RISK CONTROL 11
Chapter 3 On Keeping Records 13
GOOD RECORDS LEAD TO GOOD TRADING 13
TRADER'S SPREADSHEET—BASIC ACCOUNTABILITY 14
TRADING DIARY—YOUR KEY TO LASTING SUCCESS 16
HOW TO DOCUMENT YOUR TRADING PLAN 20
MARGRET'S METHOD—PUT IT ON THE WALL 24
HOW TO GRADE YOUR PERFORMANCE 24
TWO TYPES OF TRADING 26
Questions 29
Answers 45
PART TWO HOW TO SELL 57
Chapter 4 Selling at a Target 61
SELLING AT A MOVING AVERAGE 63
SELLING AT ENVELOPES OR CHANNELS 71
SELLING AT RESISTANCE LEVELS 83
Chapter 5 Selling on a Stop 95
THE IRON TRIANGLE 97
MARKET OR LIMIT ORDERS 99
HARD AND SOFT STOPS 101
A BAD PLACE 102
REDUCING SLIPPAGE—TIGHTER BY A PENNY 109
NIC'S STOP—TIGHTER BY A DAY 110
WHEN TO USE WIDER STOPS 117
MOVING STOPS 120
A SAFEZONE STOP 123
VOLATILITY-DROP TRAILING STOPS 124
Chapter 6 Selling "Engine Noise" 129
WEAKENING MOMENTUM 130
AN "ENGINE NOISE" EXIT FROM A SHORT-TERM TRADE 132
A DISCRETIONARY EXIT FROM A LONG-TERM TRADE 135
SELLING BEFORE EARNINGS REPORTS 139
THE MARKET RINGS A BELL 143
TRADING WITH THE NEW HIGH–NEW LOW INDEX 148
THE DECISION TREE FOR SELLING 151
Questions 157
Answers 183
PART THREE HOW TO SELL SHORT 203
Chapter 7 Shorting Stocks 207
YOUR FIRST SHORTS 211
THE ASYMMETRY OF TOPS AND BOTTOMS 214
SHORTING TOPS 216
SHORTING DOWNTRENDS 221
SHORTING FUNDAMENTALS 224
FINDING STOCKS TO SHORT 233
SHORT INTEREST 237
Chapter 8 Shorting Non-Equity Instruments 243
SHORTING FUTURES 243
WRITING OPTIONS 252
FOREX 258
QUESTIONS 265
Answers 279
PART FOUR LESSONS OF THE BEAR MARKET 291
Chapter 9 Bears Make Money 293
THE BEAR WAS BEGINNING TO STIR IN ITS CAVE 293
THE SENTIMENT INDICATORS ARE EARLY 295
THE TOP OF THE BULL MARKET 297
BEARISH DIVERGENCE AT THE 2007 TOP 299
THE BUBBLE POPS: MGM 300
SHORTING A HIGH-FLYER 302
A BEAR MARKET IS A DESTROYER OF VALUE 304
SWINGING IN AND OUT OF A MAJOR DOWNTREND 307
TRADING IN A DOWNCHANNEL 308
PREPARED FOR A SURPRISE 310
"BULL MARKETS HAVE NO RESISTANCE
AND BEAR MARKETS HAVE NO SUPPORT" 312
FOR WHOM THE BELL TOLLS OR THE HOUND BARKS TWICE 315
MR. BUFFETT BUYS TOO SOON 317
MAY I POUR SOME GASOLINE ON YOUR FIRE? 319
KEEP SHORTING ON THE WAY DOWN 321
Chapter 10 Groping for a Bottom 325
THIS STOCK MARKET IS NOT GOING DOWN TO ZERO 325
A "DOUBLE HELIX" GIVES A BUY SIGNAL 327
JUST IN TIME FOR THE PARTY 328
MY FAVORITE MAJOR BOTTOM SIGNAL 331
SELLING A BULL 332
EVERY BULL STUMBLES 335
A SCREAMING SHORT 337
Conclusion 341
HANDLING PROFITS—THE PERSONAL DIVIDEND 342
THE ROAD INTO THE FUTURE 343
References 345
Acknowledgments 347
About the Author 349
See More
DR. Alexander Elder is a professional trader, a teacher of traders, and a psychiatrist. He is the founder of elder.com and SpikeTrade.com—both of which provide educational services to traders worldwide. Dr. Elder is the author of three bestselling books, Trading for a Living (translated into more than a dozen languages), Come Into My Trading Room (2002 Barron's Book of the Year), and Entries and Exits (2007 SFO Magazine Book of the Year).
See More
More in this series