E-book
Vitamin D For Dummies
ISBN: 978-1-118-00567-5
292 pages
May 2011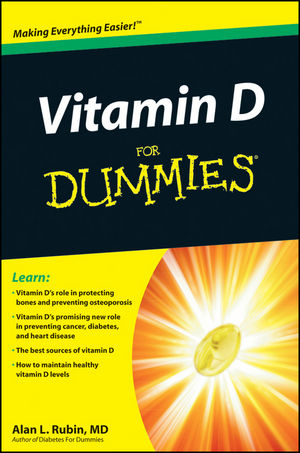 Your plain-English guide to the many benefits of Vitamin D
Vitamin D is in the news every day, as new tests and studies reveal encouraging information about its power in maintaining good health and preventing major illnesses. No longer thought to just play a role in calcium intake and bone growth, Vitamin D has a host of other functions in the body, playing a role in prevention of serious diseases, including cancer, diabetes, and heart disease, as well as boosting immunity, improving athletic performance, losing weight, and more.
This hands-on, plain-English guide is perfect for anyone looking for helpful advice and information on the "nutrient of the decade."
Coverage of how Vitamin D works, and how much is needed for disease prevention
How and where to get sufficient amounts of the right kind of Vitamin D – from both your diet and nutritional supplements
The best ways to maintain healthy levels of Vitamin D
If you're looking to learn more about the many benefits Vitamin D can have on you and your family, you'll find everything you need right here.
See More
Introduction 1
Part I: The Life History of Vitamin D 5
Chapter 1: The Essentials of Vitamin D 7
Chapter 2: Finding Out If You Have Enough Vitamin D 21
Chapter 3: Considering Calcium 43
Part II: Key Roles of Vitamin D 55
Chapter 4: Facilitating Bone Growth and Strength 57
Chapter 5: Protecting the Immune System 79
Chapter 6: Preventing Cancer .99
Chapter 7: Safeguarding Your Heart 123
Chapter 8: Avoiding Diabetes and Related Conditions 137
Chapter 9: Looking at Other Possible Functions of Vitamin D 155
Chapter 10: Furthering Science's Knowledge of Vitamin D 173
Part III: Getting Enough 179
Chapter 11: Getting Vitamin D from the Sun 181
Chapter 12: Getting Vitamin D from Food 201
Chapter 13: Getting Vitamin D from Supplements 211
Chapter 14: Appreciating Special Needs in Pregnant Women and the Elderly 221
Part IV: The Part of Tens 235
Chapter 15: Ten Myths Regarding Vitamin D 237
Chapter 16: Ten Possible New Functions of Vitamin D 247
Index 255
See More
Alan L. Rubin, MD has been a physician in private practice for more than 30 years. He is the author of several bestselling health titles, including Diabetes For Dummies, High Blood Pressure For Dummies, and Thyroid For Dummies.
See More