E-book
Understanding Color: An Introduction for Designers, 4th Edition
ISBN: 978-1-118-00577-4
272 pages
January 2012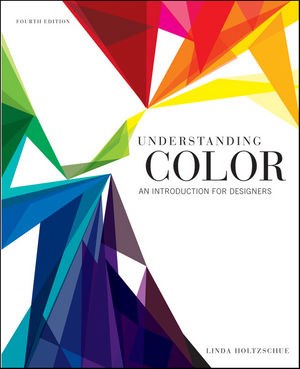 Make Sound Color Choices
Now in an updated Fourth Edition, Understanding Color helps you connect the dots between your emotional, intuitive responses to color and the theories that explain them. From this authoritative and easy-to-follow resource, you'll learn how to use color more comfortably, creatively, and effectively than ever before.
Take your work to the next level by exploring how different light sources affect color rendition, how placement changes color, how to avoid costly color mistakes, and how to resolve the color problems that frequently confront design professionals. This edition is full of powerful new features that reflect the latest issues in color and design, including:
Expanded and revised content in nearly 35% of the book.
Coverage of a broad range of design disciplines.
Ideas from the major color theorists that reinforce content, rather than emphasizing what is correct or incorrect.
Discussion of color created by traditional media and digital design, and the issues that arise when design moves from one medium to another.
Innovative coverage of color marketing issues.
Helpful tips for using color in the working environment.
An online workbook with valuable exercises that reinforce color concepts.
Understanding Color, Fourth Edition is an unparalleled source of authoritative information and practical solutions for students and professionals in all fields of design.
See More
Dedication
Acknowledgments
Preface
Contents
Chapter 1 An Introduction to Color Study
The Experience of Color 2
Color Awareness 4
The Uses of Color 7
Color-Order Systems 8
Color Study 12
Chapter 2 A Little Light on the Subject
Light 18
Additive Color: Mixing Light 20
Lamps 22
Lighting Level 25
Vision 26
The Illuminant Mode of Vision 27
The Object Mode of Vision 27
Subtractive Color: Colorants 28
Lamps and Color Rendition 31
Metamerism and Matching 32
Modifying Light: Surface 33
Transparent, Opaque, and Translucent 36
Iridescence 36
Luminosity 37
Indirect Light, Indirect Color 37
Modifying Light: Filters 38
Chapter 3 The Human Element
The Sensation of Color 44
Threshold 46
Intervals 46
The Perception of Color 49
Physiology: Responding to Light 50
Healing and Color 53
Synaesthesia 54
Psychology: Responding to Light 54
Naming Colors 55
Color as Language: From Name to Meaning 57
Impressional Color 61
Color as Words Alone 61
Chapter 4 The Vocabulary of Color
Hue 69
The Artists' Spectrum 71
Primary, Secondary, and Intermediate Colors 72
Saturated Color 72
Other Spectrums, Other Primaries 73
Chromatic Scales 74
Cool and Warm Colors 74
Analogous Colors 75
Complementary Colors 76
Tertiary Colors: Chromatic Neutrals 77
Black, White, Gray 78
Value 79
Value and Image 79
Transposing Image 81
Pure Hues and Value 82
Tints and Shades 83
Monochromatic Value Scales 84
Comparing Value in Different Hues 86
Saturation 87
Saturation: Diluting Pure Hues with Gray 87
Saturation: Diluting Pure Hues with the Complement 88
Tone 90
Chapter 5 The Instability of Colors
The Instability of Colors 94
Color Composition 95
Ground and Carried Colors 96
Placement and Color Change 97
Equilibrium 98
Simultaneous Contrast 99
Afterimage and Contrast Reversal 101
Complementary Contrast 102
Ground Subtraction 104
Color and Area: Small, Medium, Large 107
Chapter 6 Illusion and Impression
Optical Illusions 112
Color Illusions 113
The Illusion of Depth 113
Spatial Effects of Colors 116
Transparence Illusion 118
Fluting 121
Vibration 122
Vanishing Boundaries 123
Luminosity 124
Bezold Effect 125
Optical Mixes 126
Chapter 7 Color Theory: A Brief History
Setting the Stage 132
The Beginnings of Color Theory 133
Color and Controversy 136
The Scientific Model: Color Gets Organized 138
Color by Numbers 142
A New Perspective 145
Chapter 8 Color Harmony
In Search of Beauty 150
Intervals and Harmony 152
Hue and Harmony 153
Value and Harmony 154
Saturation and Harmony 156
Major and Minor Themes 158
Some Harmonious Conclusions 159
On Beyond Harmony: Dissonant Colors 160
High-Impact Color 161
The X-tra Factor: Surface and Harmony 162
Chapter 9 Tools of the Trade
It's the Real Thing: Color in Product and Print 168
Design Media 171
Artists' Media 172
Subtractive Mixing 174
Tinting Strength 176
Color Printing 177
Chapter 10 The Medium of Light
Then and Now 187
Images of Light 187
Lost in Translation 189
The Screen Display 192
Color Management 195
Color Display Modes 197
Presentation: Screen and Print 200
Color on the Web 202
Web Color Coding 204
Emerging Media 208
Chapter 11 The Business of Color
The Color Industries 213
Producing Color 213
Color Sampling 214
Color Forecasting 215
Color and Product Identity 217
Palettes, Color Cycles, and History 219
Traditional Colors 221
Influences on Palettes 223
Glossary 230
Bibliography 246
Index 252
Online Workbook (www.wiley.com/go/understandingcolor4e)
See More
Linda Holtzschue is Principal of Linda Holtzschue and Associates, an interior design firm based in New York City. She has taught color theory and related courses at Parsons School of Design, where she also served as an assistant dean; the Fashion Institute of Technology; and the School of Visual Arts. Her work has appeared in the New York Times Magazine and Better Homes and Gardens.
See More