E-book
Windows Phone 7 For Dummies
ISBN: 978-1-118-00586-6
312 pages
November 2010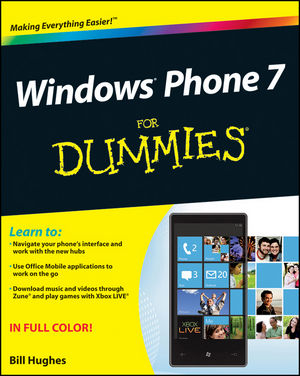 Unleash the full power of your Windows Phone 7!
Windows Phone 7 is the new and improved mobile platform for all Windows smartphones. The new platform has been completely rebuilt from the ground up and this guide walks you through everything that's new, from the look and feel to the underlying code to the revamped home screen and user interface experience. Placing special focus on the features and functionality that is shared across all Windows Phone 7 series models, this fun and friendly book covers a wide range of how-to topics on everything from making simple calls to using your handheld device as a mobile computer.
Explores the exciting new Windows Phone 7 and the completely revamped platform that will revolutionize the way you experience mobile phone use
Shows you how to personalize your interface and exchange and sync information with your Windows PC
Covers how to download, install, and use Mobile Office applications
Demonstrates creating, downloading, exchanging, and sharing digital media, such as photos, videos, sound, and music files with other mobile device and PC users
Windows Phone 7 For Dummies takes your Windows Phone 7 experience to a whole new level!
See More
Intoduction 1
About This Book 1
Conventions Used in This Book 1
What You're Not to Read 2
Foolish Assumptions 2
How This Book Is Organized 2
Icons Used in This Book 4
Where to Go from Here 5
Part I: Getting Started 7
Chapter 1: Beginning at the Beginning 9
First Things First: Turning On Your Phone 10
You and Your Shadow: Understanding How Your Cellular Carrier Bills You 12
Voice usage 12
Text usage 13
Data usage 13
Charging Your Phone and Managing Battery Life 14
Navigating around the Phone 16
The phone's buttons 16
The touch screen 20
The keyboard 25
Turning Off the Phone 27
Chapter 2: Making Your First Call 29
Making Your First Call 29
Receiving Your First Call 33
The Call History: Keeping Track of Your Calls 34
Emergency Calls: The 411 on 911 35
Synching a Bluetooth Headset 36
Chapter 3: The Joy of Text 39
Sending Your First Text 39
Sending an Attachment with a Text 44
Receiving Your First Text 45
Managing Your Text History 46
Part II: Moving Beyond the Basics 47
Chapter 4: What You Can Do with Your Phone 49
The Basics: What Any Cellphone Can Do (And How the Windows Phone Does It) 49
What Makes a Smartphone Smart 50
Internet access 50
Wireless e-mail 53
Multimedia 53
Downloaded games and applications 53
What Your Windows Phone 7 Can Do 54
People and social networks 54
Photos 55
Music and video 56
Games 57
Business and e-mail 59
Chapter 5: Included Applications: What's on Your Phone 61
Start Screen Apps: The Tip-Top Taps 61
Internet Explorer: It's all there 63
Office: Just like your PC 63
Clock: Anybody have the time? 65
Calendar: Forget your appointment book 66
Calculator: 1 + 1 = 2 69
Exploring More Applications on Your Phone 69
Applications 71
Utilities and settings 76
Part III: Live on the Internet: Going Mobile 77
Chapter 6: You've Got the Whole (Web) World in Your Hands 79
Browsing the Web on Your Phone: Internet Explorer 79
Your Favorites list 81
Tabs 84
More options 86
Binging Your Way to the Information You Need: Mobile Bing Searches 88
Web searches 88
Map searches: Getting there from here 92
Accessing Web Sites, Mobile or Not 96
Chapter 7: The Windows Live ID and What It Can Do for You 99
Looking at the Benefi ts of Windows Live 99
Determining whether You Have a Windows Live ID 101
Signing Up for a Windows Live ID 102
Knowing what information you need to provide 103
Jumping through the hoops 104
Acknowledging your new Windows Live ID 106
Chapter 8: Introducing the Windows Phone Marketplace 109
Windows Phone Marketplace: The Mall for Your Phone 110
How to Get to the Marketplace 111
Through the Marketplace app on your Windows Phone 111
Through the Internet 111
What's Available: Window Shopping 113
Chapter 9: Buying and Installing Applications 117
Setting Your Marketplace Preferences 117
Your payment information 118
Your phone type 118
Buying and Installing an Application from Your Phone 119
Getting Application Updates 122
Getting Rid of an App — And Maybe Even Getting Your Money Back 123
Part IV: Connecting with the People You Care About 125
Chapter 10: A Shared Picture Is Worth a Million Words 127
Say Cheese! Taking a Picture with Your Windows Phone 127
Sorting the Images on Your Phone 128
A quick tour through the Pictures app 128
Your sorting options 131
Sharing Your Photos with Windows Live 135
Chapter 11: Sending and Receiving E-Mail on Your Phone 139
Setting Up Your E-Mail 139
Using a supported e-mail account 141
Using a non-fully-supported e-mail account 142
Setting up multiple accounts 142
Reading E-Mail on Your Phone 142
Managing Your E-Mails 145
Writing and Sending an E-Mail 145
Chapter 12: Keeping Connected with Your BFFs 147
Setting Up Your Social Networks 149
Facebook 150
Other social networking sites 150
Setting Up Your Contact Database 150
Adding contacts to your phone manually 152
Adding contacts as you communicate 153
Importing data from your SIM card 154
Building contacts with Windows Live 154
Navigating Your People Hub 159
Part V: Music and Videos in the Palm of Your Hand 163
Chapter 13: The "Phonified" Zune HD 165
Recognizing What Zune HD Can Do 165
Navigating Music and Video on Your Windows Phone 167
The Zune start screen 168
Delving into your past with the History screen 170
Finding music you've recently downloaded on the New screen 171
Chapter 14: Working the Zune Marketplace 173
Listening Up on Licensing 173
Music and podcasts 173
Videos 176
Handing Over Your Hard-Earned Money 176
Getting Music and Videos 181
Chapter 15: Playing Music and Videos 189
Playing Zune Tunes 189
Playing a single song 189
Playing an album, artist, or genre 193
Playing a playlist 194
Playing Zune Videos 195
Playing Zune Podcasts 196
Playing Zune Radio 196
Part VI: Gaming on Your Phone with Xbox LIVE 201
Chapter 16: Let the Games Begin! 203
Figuring Out What to Play: Game Types 203
Where to Buy Games 205
Organized Fun on the Games Hub 206
Chapter 17: Getting Games on Your Phone 211
The Games Department of the Windows Phone Marketplace 211
Keeping Track of the Games on Your Phone 215
Chapter 18: Xbox LIVE and Mobile 217
What Xbox LIVE Is 217
The free stuff 218
The not-free stuff 218
Xbox LIVE from Your Windows Phone 221
Part VII: Taking Care of Business with Your Windows Phone 225
Chapter 19: On the Road Again: Taking Your Work with You on Your Phone 227
Mobile Office Apps 227
Office Hub on Your Phone 229
OneNote 230
Documents 231
SharePoint.237
Links 238
File Sharing outside of SharePoint 238
Using e-mail to review and edit fi les 239
Using SkyDrive or another remote server 240
Chapter 20: Making a Date with Your Phone 245
Stand-Alone with Me: Setting Up Your Phone's Calendar 245
Setting your date and time preferences 246
Getting to the Calendar 249
Making a new appointment 251
Your Calendars Together at Last 256
Linking your electronic calendars to your phone 256
Creating an appointment for one calendar 256
Part VIII: The Part of Tens 261
Chapter 21: Ten (Or So) Steps to Making the Phone Totally Yours 263
Population Explosion: Adding Your Contacts 264
You Look Marvelous: Putting Up Custom Screen Images 264
Songs That Make the Whole World Sing: Downloading Your Music 264
Making a Statement with Accessories 264
Customizing Your Start Screen 265
Setting Screen Colors 267
Setting Your Password 270
Signing Up for Microsoft's My Phone Service 272
Chapter 22: Ten Features to Look for Down the Road 275
More and More Applications 275
More Supported Social Networking Sites 276
Support for More E-Mail Services 276
A Compass 276
Side-Loading of Music 277
Loading of Proprietary Applications 277
Connection to External A/V 277
Cut and Paste in Microsoft Offi ce for Mobile 277
More Accessories 278
Updating of the Operating Systems 278
Index 279
See More
Bill Hughes is a marketing strategy executive whose 20-plus years of experience span sales, strategic marketing, and business development. He has worked for major corporations, including Microsoft, IBM, GE, and Motorola, and has aided Microsoft in marketing to mobile application developers.
See More