E-book
Windows Phone 7 Secrets
ISBN: 978-1-118-00661-0
480 pages
October 2010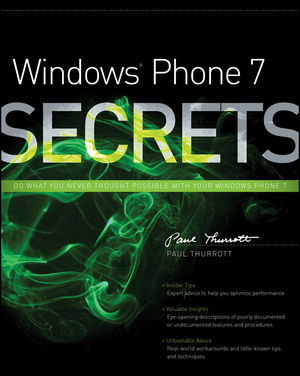 Written with unequalled internal access to the Window's Phone Team, thisbookwill reveal to you the inner workings of Windows Phone and how to make it work the way you want it to. Personalized notations, interior elements, and author highlights emphasize key content throughout the book, making it easier for you to navigate the book. The book begins by showing you to select and setup the right Windows Phone, then moves on to discuss integrated experiences, applications and hubs, games, and much more.
See More
Introduction xvii
Chapter 1 Pre-Flight Checklist: What to Do Before You Get Your Windows Phone 1
Windows Live ID: One Online ID to Rule Them All 2
Using Windows Live ID to Access Your Social Networks and Other Services 11
Picking a Phone 25
Summary 32
Chapter 2 Unboxing and Getting Started 33
Unboxing Your Windows Phone 34
Windows Phone Usage 52
Summary 64
Chapter 3 Understanding the Windows Phone User Interface 65
The Way We Were: How Microsoft Screwed Up
Mobile So Bad It Had to Start Over from Scratch 66
A New Beginning: Metro 69
Real-World Metro: A Whirlwind Tour of the UI 82
Hubs and Applications 86
Summary 100
Chapter 4 You and Your Friends: How to Connect with Others, Connect to the World 103
Managing Your Digital Persona 104
Being a People Person: Managing Your Family, Friends, and Other Contacts 108
Configuring the People Hub 120
Summary 122
Chapter 5 Digital Memories: Using the Pictures Hub and Camera 123
Using the Pictures Hub 124
Taking Pictures and Videos with the Camera 127
Moving Photos Between the Phone and Your PC 136
Sharing Photos and Customizing Your Phone 143
Configuring Pictures Hub Options 148
Summary 149
Chapter 6 Zune to Go: Music + Videos 151
Using the Zune PC Software with Windows Phone 152
Enjoying Music and Video Content on Windows Phone 165
Why Zune Is Different 182
More Music: Pandora and Other Services 186
Summary 187
Chapter 7 Having Fun: Windows Phone and Games 189
Windows Phone: Great Mobile Gaming Platform 190
Understanding Xbox Live 194
Xbox Live on Windows Phone: Not the Full Meal Deal 200
Using the Games Hub 202
Playing a Game 206
Finding More Games in the Marketplace 207
Summary 209
Chapter 8 Browsing the Web 211
A (Short) History of the Mobile Web 212
Using Internet Explorer on Windows Phone 214
Configuring Internet Explorer 232
Summary 235
Chapter 9 Searching on the Go with Bing 237
Bing: A Different Way to Search 238
Using Bing 244
Configuring Bing 265
Summary 265
Chapter 10 Managing E-mail on the Go 267
Push It: A Look at Mobile E-mail 268
Understanding Accounts and E-mail 269
Using Mail 273
Configuring Mail and E-mail Accounts 292
Summary 294
Chapter 11 Tracking Your Schedule with Calendar 295
Connected Calendars 296
Glancing at Your Schedule on the Go 303
Using Calendar 305
Working with Appointments and Reminders 309
Configuring Calendar 315
Summary 316
Chapter 12 Getting Work Done on the Go with Office Mobile 317
Introducing the Tiniest Member of the Office Family 318
What You Can—and Can't Do—with Office Mobile 320
Using the Office Hub 322
Accessing Online Documents 341
Configuring Office Mobile 351
Summary 352
Chapter 13 Making Calls and Using Voicemail 353
Configuring Contacts Accounts 354
Making and Receiving Phone Calls 355
Using Voicemail 367
Working with Bluetooth 368
Configuring Phone and Voicemail 370
Summary 375
Chapter 14 Text and Multimedia Messaging 377
Understanding Mobile Messaging 378
Messaging on Windows Phone 380
Configuring Messaging 389
Beyond Messaging 390
Summary 391
Chapter 15 Digging Deeper into Phone Configuration 393
Configuring What Happens When the Phone Is Locked 394
Configuring Sounds 397
Using Windows Phone on an Airplane 399
Configuring Accounts 400
Making Region and Language Configuration Changes 404
Wi-Fi Sync 405
Nuke It from Space and Start Over 407
Summary 409
Chapter 16 PC and Web Integration 411
You Can't Get There from Here 412
Browsing and Buying in the Marketplace 412
Windows Phone on the Web 420
Updating Windows Phone 430
Summary 431
Index 433
See More
Paul Thurrott runs SuperSite for Windows, a world-renowned Windows-oriented website. He is the author of more than 20 books about technology, a columnist for Windows IT Pro Magazine, and the co-host of the popular Windows Weekly podcast with Leo Laporte.
See More