E-book
Limited Liability Companies For Dummies, 2nd Edition
ISBN: 978-1-118-00685-6
384 pages
December 2010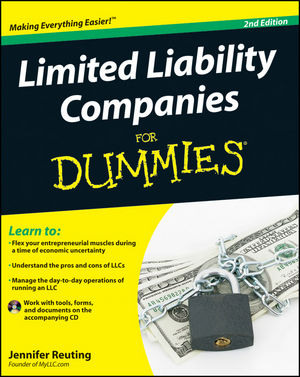 Flex your entrepreneurial muscle with an LLC
The previous drawbacks to forming an LLC have all but disappeared. The IRS has loosened the restrictions on entities electing partnership taxation and subsequently the states have loosened their requirements. Because LLCs are now more flexible entities than any that have ever existed, they remain an attractive option for those launchinga new or relaunching an existing business.
Limited Liabilty Companies For Dummies is a clear, concise guide that explains the pros and cons of LLCs and shares insider insights on everything from choosing your members and your company name to creating and filing your Articles of Organization, to the day-to-day operation of your LLC. Plus, you'll the most current, real-world advice on customizing an LLC for your specific business needs.
The latest information on federal taxes and fees
New filing requirements and coverage of setting up real estate LLCs and LLCs among family members
Accompanying CD includes updated tools and forms
It's full-steam ahead for LLCs, and this hands-on guide addresses everything you need to know and more!
See More
Introduction.
Part I: The ABCs of LLCs.
Chapter 1: What Is an LLC, Really?
Chapter 2: LLCs: More Handy Than Duct Tape!
Chapter 3: Determining Whether an LLC Is Right for You.
Part II: Your First Steps: Forming Your LLC.
Chapter 4: Playing — and Winning — the Name Game.
Chapter 5: Choosing the Best State for Your LLC.
Chapter 6: Creating and Filing Your Articles of Organization.
Chapter 7: Converting Your Current Business into an LLC.
Part III: Customizing Your LLC.
Chapter 8: Tell Uncle Sam How It Is! Choosing How You Want to Be Taxed.
Chapter 9: The Power Source: Issuing and Transferring Membership.
Chapter 10: Make It Official! Creating Your Operating Agreement.
Part IV: Running Your Brand-New LLC.
Chapter 11: Maintaining Your Records (And Your Sanity).
Chapter 12: Making Cents of Taxes.
Chapter 13: Raising Capital with Your LLC.
Chapter 14: Expanding Your Empire: Going National!
Chapter 15: Dissolutions: Every Beginning Has an End.
Part V: LLCs on Steroids: Advanced Strategies.
Chapter 16: Using LLCs to Cover Your Assets.
Chapter 17: Protecting Real Estate with LLCs.
Chapter 18: Estate Planning: Avoiding Death Taxes.
Part VI: The Part of Tens.
Chapter 19: Ten Good Reasons to Form an LLC.
Chapter 20: Ten Ways to Keep Your Liability Protection Intact.
Part VII: Appendixes.
Appendix A: LLC Formation Information by State.
Appendix B: About the CD.
Index.
See More
Jennifer Reuting has helped thousands of businesses get started through her companies MyLLC.com and InCorp. She is at the forefront of recent changes in starting and structuring LLCs.
See More