Win / Loss Reviews: A New Knowledge Model for Competitive Intelligence
ISBN: 978-1-118-00741-9
202 pages
July 2011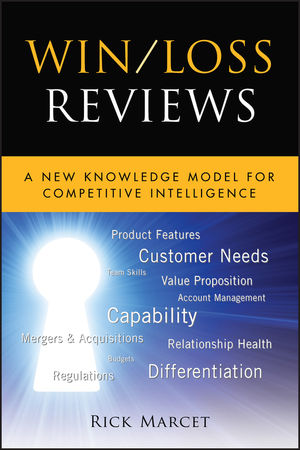 An effective framework for strengthening competitiveness by learning from past deals and applying insights derived from them.
Every sales opportunity, whether won or lost, has useful nuggets of information that can be harvested and used to improve performance. When those pieces of information are aggregated, analyzed and made available for all to use, the organization's competitive position is greatly enhanced.
Reveals how to turn field sales teams, a mostly underutilized resource, into net producers of competitive intelligence
Exposes new and unconventional approaches for gathering and democratizing sales insights for a broad stakeholder audience
Presents a proven knowledge sharing model that is being adopted by major companies worldwide
Win/Loss Reviews shows how every company can improve top and bottom line performance by systematically capturing the key insights from deals that have been won, lost or delayed.  While the book talks to decision makers and business strategists, the principles and disciplines explored are aimed at bridging the flow of competitive intelligence between sales and marketing, simultaneously providing insights and line-of-site to the dynamics affecting business performance.
See More
Preface xiii
Acknowledgments xix
CHAPTER 1: Introduction 1
Trusting Today's Seller 5
Listen to the Customer, Too 7
Driving Scale and Accuracy 8
A New Approach 9
Summary 16
Notes 17
CHAPTER 2: Win/Loss Reviews and Business Intelligence 19
A New Knowledge Model 22
BI Governance 25
Providers of Self-Service BI 26
Pocket BI: Intelligence to Go 27
From BI to Competitive Intelligence 28
Summary 30
Notes 31
CHAPTER 3: Why Do We Win or Lose? 33
Factors Contributing to Wins and Losses 34
Is a Win Always a Win? 37
Narratives Provide Additional Context 38
Factor Weighting 39
Do We Learn More from Wins or Losses? 40
Disengaged Opportunities: What's the Real Story? 41
Delayed Deals Benefit from Win/Loss Reviews 43
Summary 46
Note 46
CHAPTER 4: Capturing the Data 47
Unlocking Tacit Knowledge 48
Opportunity Details 50
Outcome Factors 51
The Narrative 59
Accommodating Multiple Languages 62
Summary 62
Note 63
CHAPTER 5: Surfacing the Insights 65
Tactical Insights 67
Strategic Insights 73
Summarizing the Information 75
Accountability for Surfacing Insights 77
Trends and Statistical Evidence 80
Summary 83
Note 84
CHAPTER 6: Beyond Competitive Insights 85
Award Programs 88
Recognition 89
Marketing Case Studies 91
Summary 93
CHAPTER 7: Measuring Process and Outcome Performance 95
Scale Drives Quantity 96
Quality Drives Value 99
Value, Expectations, and Policy 100
Setting Expectations 103
Policy Considerations 104
Measuring Outcome Performance 105
Summary 109
CHAPTER 8: Stakeholder and Cultural Considerations 111
Account Manager 113
Sales Manager 115
Product Manager 116
Marketing Manager 118
Corporate Leadership 119
An Emerging Career Skill and Role Requirement 120
Corporate and Leadership Culture 122
Culture and Social Networks 124
Social Media Paradigms 126
Summary 128
Notes 129
CHAPTER 9: Implementing a Win/Loss Review Program 131
Establishing Business Goals and Objectives 132
Planning Phase 133
Elicitation, Documentation, and Review Phase 134
Gathering Insights from Current Tools, Processes, and Documents 140
In-Person/Group Input 142
Concerns and Issues 143
Consolidation and Publication of Results 144
Managing Phase 145
Design, Develop, Implement, and Support 145
Training and Guidance 148
Summary 151
Note 151
CONCLUSION: A Look Forward 153
APPENDIX A: Process Improvement: A Case Study 157
Background 158
Problem Statement 159
Hypothesis 159
Approach 160
Define Phase 161
Voice of the Customer 161
Stakeholder Analysis 164
Measure Phase 168
Analyze Phase 169
Improve Phase 170
Control Phase 173
Results 174
Note 176
APPENDIX B: From the Blogosphere 177
On Whether Sales Teams or Customer Interviews Provide Most Insights 178
Effect of Social Networking on Win/Loss Reviews 179
What Win/Loss Reviews May Reveal Beyond Pricing Issues 180
Win/Loss Review Process Improvement 181
APPENDIX C: Software and Services for Win/Loss Review 183
Software Sloution 183
Partner Profiles 184
Glossary 187
About the Author 195
Index 197
See More
RICK MARCET is the program director for the World Class Selling initiative at Microsoft. He is responsible for leading the drive to increase the sales capabilities of field sales organizations through both the art and the science of selling, across all customer segments. He accomplishes this through the effective use of inquiry-led sales techniques and business and competitive intelligence to drive sustained sales growth and achieve consistently high customer satisfaction. He can be reached via: @RickMarcet; linkedin.com/in/rickmarcet; facebook.com/pages/Win-Loss-Reviews/152317004835660.
See More
More in this series