Mindhacker: 60 Tips, Tricks, and Games to Take Your Mind to the Next Level
ISBN: 978-1-118-00752-5
Paperback
408 pages
September 2011
US $24.99

Add to Cart
This price is valid for United States. Change location to view local pricing and availability.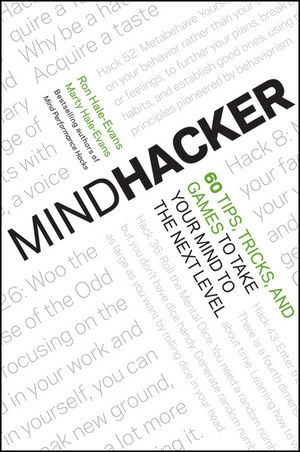 Other Available Formats:
E-book
"What I enjoyed most was that the book generally managed to avoid the overblown language and hype of most "hack" books and instead focused on practical applications and realistic assessments of how effective a particular strategy might be. Even without the hype, I found the book motivating and it encouraged me to explore subjects that were new to me and consider ideas for self-education, self-improvement, and creativity."
—
Michael Corayer
, MichaelCorayer.com
"Many of the hacks here take advantage of the fact that the way you see your mind and your world are often radically related, if not often the same thing. What I mean is that a lot of these are not just mental exercises, but tricks for productivity, ways to communicate better, hacks for breaking bad habits, tips for time management, and creative ways to be more creative. It's not just about the hacks though. Mindhacker is also stocked with other (re)sources: Relevant URLs, books, and articles are listed on every page, along with the stories of the hacks' origins, and the book's website has even more, including pieces of code as well as complete programs."
—Roy Christopher, RoyChristopher.com
"The examples mentioned are just a couple that I found immediately useful, but this book seems like one I will return to again and again. Areas that may not seem as pressing to me today may well become very important to me tomorrow, and Mindhacker may be my best hope yet in fighting off senility."
—Greg Barbrick, BlogCritics
"There's a real embarrassment of riches in this book, all of which are well-researched and scientifically rigorous, which reflects Ron's psychology background. This is a book that seems tailor-made for browsing. "Mindhacker" is extensively cross-referenced. When you pick this book up, you'll find yourself zooming around the pages, bouncing from hack to hack to hack. I was already a fan of the previous book, "Mind Performance Hacks," and this is certainly a worthy sequel, in spirit if not in fact. It will definitely become part of my personal canon, and if you're really serious about stretching your mind, it should be part of yours, too."
—David Delony, Walyou.com
"Mindhacker really is a good match to Grey Matters readers, as it is all about improving your mind, and having fun while doing so. It's approachable, educational, fun, and neither intimidating nor condescending in tone. I highly recommend Mindhacker. If you haven't already picked up "Mind Performance Hacks," do your mind a favor and pick them up together."
—Scott Cram, Grey Matters blog