Make More Money, Find More Clients, Close Deals Faster: The Canadian Real Estate Agent s Essential Business Guide
ISBN: 978-1-118-00804-1
224 pages
March 2013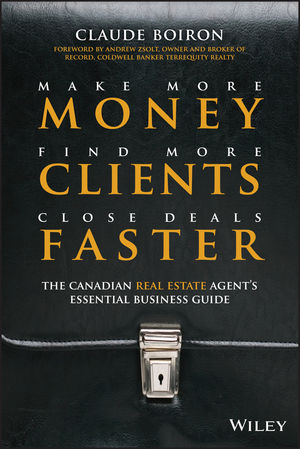 Everything you need to know to succeed in the real estate business, as an agent, broker, or seller
Make More Money, Find More Clients, Close Deals Faster illustrates why and how real estate agents need to change the way they do business to better serve their clients, spend resources more wisely, and make more money. The real estate industry is notorious for eating up a real estate agent's time, energy, and money, but many of the inefficiencies are of their own making. As a result, the client suffers from poor and uninformed service.
This book provides a new business model for agents that shows how to sell more property, in less time, and develop client relationships that will continue over time, as well as a model for the broker, who can increase the brokerage's revenues through the use of professional development strategies from the book.
Shows brokers how to provide better customer service, improve profits and return on investment, and take full advantage of social networking to advertise and attract new clients
Written by Claude Boiron, coauthor of Commercial Real Estate Investing in Canada
One of the few guides to the subject written particularly for the Canadian real estate market
Make More Money, Find More Clients, Close Deals Faster is of value to real estate boards educating new members, academics, as well as agents, brokers, and sellers themselves.
See More
Foreword ix
Acknowledgements xi
Part I: The Business of Real Estate
Chapter 1: Is Real Estate for You? 3
Qualities of a Top Realtor 5
What Type of Real Estate Is Right for You? 9
Commission Structure 11
Developing Your Own Style 13
The Regulatory Bodies 14
Chapter 2: Finding a Brokerage that Fits 17
Commissions and Fees 18
Support and Training 19
Type of Brokerage and Community It Serves 20
How a Brokerage Operates 24
How a Brokerage Makes Money 27
Online Brokerages 27
Chapter 3: How Do You Make Money and Find Clients? 29
The Money Part 29
The Clients Part 31
Creating Relationships and Making Connections 33
Part II: Representing the Seller
Chapter 4: When Meeting with a Client 39
Putting a Client at Ease 39
Helping a Client with the Fine Print 43
Chapter 5: Pricing Strategies 49
Factors to Consider in Establishing an Asking Price 49
Motivating a Seller to Accept an Offer 52
Chapter 6: Preparing a Home for Sale 57
Home Staging 57
Should You Consider Being Certified as a Home Stager? 61
Chapter 7: Using Digital Tools for Branding and Marketing 63
Digital Media 63
Digital Photographs 64
Social Media 65
Social Media Branding 66
Social Media Strategy 67
Twitter 67
Facebook 69
LinkedIn 70
Realtor Websites 72
Search Engine Optimization (SEO) 72
Researching Keywords 73
Using Keywords in Titles 74
Continuing to Write More Content 74
Including Images 74
Getting External Links 75
Integrating Social Media 75
Other Advertising and Marketing 75
Chapter 8: From Showing to Offer 77
Working with Other Realtors 77
Holding an Open House 78
Keeping the Seller Client Calm during the Sale Process 79
Dealing with Multiple Offers 80
Chapter 9: Getting to Closing 85
Negotiating a Deal 86
Helping the Client beyond the Deal 88
Part III: Representing the Buyer
Chapter 10: Knowing What Your Buyer Client Really Wants 93
Meeting Face to Face 93
Questions to Ask the Client 95
Use the Funnel Approach 96
Taking the Emotion Out of Buying a Property 100
Chapter 11: Showing Properties to Your Clients 105
Preparing to Show Properties 106
Negotiating Lock Boxes and Showing Etiquette 108
Useful Links 118
Chapter 12: Explaining the Terms of a Listing to Your Client 119
Explanation of Terms 119
Chapter 13: The Offer to Purchase: It's a Contract 127
Terms and Explanations 129
Chapter 14: For Sale By Owner versus a Full-Service Brokerage 137
Commissions and Values 141
Chapter 15: Tips for Working with Listing Agents, Dealing with Multiple Bids, and Meeting Conditions 143
Working with a Listing Agent 143
Managing Multiple-Bid Situations 145
Conditions: Always a Balancing Act 147
What If a Home Inspection Digs Up a Problem? 150
Chapter 16: Guiding Your Client through the Final Closing Process 153
Closing Costs and Related Expenses 153
Waiving of Conditions 154
Title Insurance 155
Part IV: Setting Up a Network of Experts
Chapter 17: Professionals You Need to Have in Your Circle 159
A Real Estate Lawyer 159
List of Other Professionals 160
Where Can You Meet Other Professionals? 163
Chapter 18: Building Relationships with Other Realtors 165
Create an Atmosphere of Cooperation with Other Realtors 167
Part V: Tales from the Trenches
Chapter 19: Real-Life Stories about Deals 177
Chapter 20: Words to the Wise: Pitfalls and Tips to Avoid Them 185
Real Estate Professionals' Answers to Common Questions 187
Appendix A: Helpful Tools and Further Reading 201
Appendix B: Glossary 203
About the Author 207
Index 209
See More
Claude Boiron is co-author of Commercial Real Estate Investing in Canada: The Complete Reference for Real Estate Investors and Professionals. As a real estate broker, he has transacted deals ranging from a couple purchasing their first home to complex commercial deals involving many millions of dollars, to residential, commercial, and industrial rentals. Boiron teaches a course entitled "Commercial Real Estate Investing" at the University of Toronto's School of Continuing Studies and a series of courses on residential real estate at York University. He is also retained by real estate brokers to teach a ten-week course entitled "Real Estate Sales Training" to their salespeople.
See More