Diploma Matters: A Field Guide for College and Career Readiness
ISBN: 978-1-118-00914-7
Paperback
192 pages
August 2011, Jossey-Bass
US $29.95

Add to Cart
This price is valid for United States. Change location to view local pricing and availability.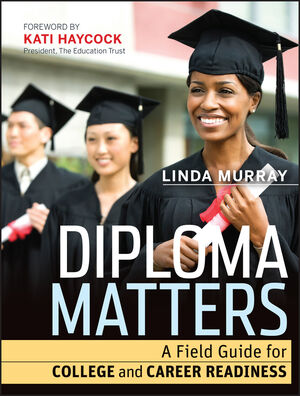 Other Available Formats:
E-book
Foreword.
Acknowledgments.
Preface.
The Author.
Introduction.
San Jose Unified—A Success Story.
What Did We Do?
Chapter One: Dispelling the Myths.
Myth 1: A College-Prep Curriculum Hurts Kids Who Aren't Going to College.
Myth 2: The Curriculum Will Be Watered Down.
Myth 3: Grades Will Plummet.
Myth 4: Students Will Disengage and Drop Out.
Myth 5: Disadvantaged Students Will Suffer the Most.
Myth 6: High School Is the Wrong Place to Make Changes.
Myth to Reality: Higher Standards Help Everyone.
Quick Facts.
Reader Reflection.
Chapter: Two: Expectations Matter.
Setting the Foundation for Reform.
Finding Common Ground.
A Defining Moment: The Students Speak.
How Good Is Good Enough?
Getting the Teachers' Union on Board.
Setting Our Stake in the Sand.
Reader Reflection.
Chapter Three: The Journey Through High School.
How Do You Turn Ideas into Action?
The War Room.
Analysis of Student Transcripts.
The Master Schedule.
Just-in-Time Interventions.
Getting Serious About Summer School.
Summer Bridge.
Creating Opportunities for Acceleration.
Students with Special Needs and English Language Learners.
Reaching the Outliers: Safety Nets and Supports.
Bricks, Mortar, and Science Labs.
Reader Reflection.
Chapter Four: Teachers: A Force to Reckon With.
Finding the Teachers We Needed.
Teaching the Teachers: Professional Development That Works.
Accountability with Collaboration.
Results First.
Reader Reflection.
Chapter Five: The Educational Opportunity Audit.
How Long Will It Take?
Start by Defining Your Requirements.
Gathering Your Team.
Gathering Your Materials.
Collecting Achievement Test Data.
Transcript Study.
Master Schedule Analysis.
Focus Groups.
Community Conversation.
Surveying Department Heads.
Educational Opportunity Audit Findings.
Reader Reflection.
Chapter Six: The Blueprint.
Here's Where the Real Change Begins.
Setting up Committees to Get the Work Done.
Work to Be Done by District Departments.
Developing Action Plans.
Reader Reflection.
Chapter Seven: A Look at "District X".
This Is What It Looks Like.
District X: Transcript Study.
District X: Master Schedule.
District X: Focus Groups and Community Conversation.
Recommendations Based on All Findings.
Reader Reflection.
Chapter Eight: College and Career Readiness in Our Nation's Schools.
How Is College and Career Readiness Playing Out in Other Districts?
Yes, You Can.
Reader Reflection.
Chapter Nine: The Journey Continues.
Now What?
Creating a College-Going Culture.
A Data-Driven District.
Where the Work Is Heading.
The Good News: Universal Access.
"D" Grades Remain the Greatest Barrier to College Eligibility.
The Path Is Clear.
Reader Reflection.
Appendixes.
Appendix 1: Focus Group Protocols.
Protocol for Student Focus Group Work.
Protocol for Teacher Focus Group Work.
Protocol for Counselor Focus Group Work.
Protocol for Parent and Community Focus Group Work.
Appendix 2: Community Conversation Protocol.
Plenary Session.
Break-out Sessions.
Closing Plenary.
Appendix 3: Survey Protocols.
Budget Survey.
Curriculum and Instruction Survey.
Human Resource Survey.
Facilities Survey.
Professional Development.
Safety Net and Support Interventions Survey.
Special Education, Alternative Education, and English Learner Survey.
Career Technical Education (CTE) Survey.
Index.