What's Fair: Ethics for Negotiators
ISBN: 978-1-118-00925-3
592 pages
September 2010, Jossey-Bass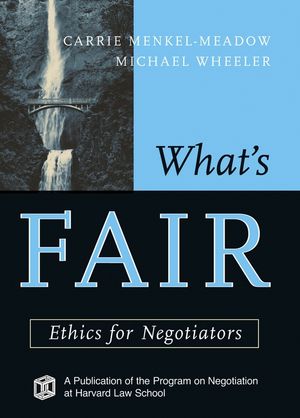 What's Fair
is a landmark collection that focuses exclusively on the crucial topic of ethics in negotiation. Edited by Carrie J. Menkel-Meadow and Michael Wheeler,
What's Fair
contains contributions from some of the best-known practitioners and scholars in the field including Roger Fisher, Howard Raiffa, and Deborah Kolb. The editors and distinguished contributors offer an examination of why ethics matter individually and socially, and explain the essential duties and values of negotiation beyond formal legal requirements. Throughout the book, these experts tackle difficult questions such as:
What do we owe our counterparts (if anything) in the way of candor or disclosure?
To what extent should we use financial or legal pressure to force settlement?
Should we worry about whether an agreement is fair to all the parties, or the effects our negotiated agreements might have on others?
See More
Preface.
Acknowledgments.
Introduction: What's Fair in Negotiation? What Is Ethics in Negotiation? (Carrie Menkel-Meadow).
Swimming with Saints/Praying with Sharks (Michael Wheeler).
PART ONE: OVERVIEW.
1 Three Ethical Issues in Negotiation (David A. Lax, James K. Sebenius).
2 Ethical and Moral Issues (Howard Raiffa).
3 Negotiation Analysis (Howard Raiffa).
4 A Code of Negotiation Practices for Lawyers (Roger Fisher).
5 The Limits of Integrative Bargaining (Gerald B. Wetlaufer).
6 Bargaining with the Devil Without Losing Your Soul: Ethics in Negotiation (G. Richard Shell).
PART TWO: TRUTH TELLING IN NEGOTIATIONS.
7 Truthfulness, Deceit, and Trust (Sissela Bok).
8 Machiavelli and the Bar: Ethical Limitations on Lying in Negotiation (James J. White).
9 Promoting Honesty in Negotiation: An Exercise in Practical Ethics (Peter C. Cramton, J. Gregory Dees).
10 On the Ethics of Deception in Negotiation (Alan Strudler).
11 Deception and Mutual Trust: A Reply to Strudler (J. Gregory Dees, Peter C. Cramton).
12 The Lawyer's Obligation to Be Trustworthy When Dealing with Opposing Parties (Geoffrey C. Hazard, Jr.).
13 Curtailing Deception: The Impact of Direct Questions on Lies and Omissions (Maurice E. Schweitzer, Rachel Croson).
PART THREE: BARGAINING TACTICS.
14 Negotiating Tactics for Legal Services Lawyers (Michael Meltsner, Philip Schrag).
15 Smart Negotiating: How to Make Good Deals in the Real World (James C. Freund).
16 Ethical and Unethical Bargaining Tactics: An Empirical Study (Roy J. Lewicki, Robert J. Robinson).
17 Is Business Bluffing Ethical? (Albert Z. Carr).
PART FOUR: NEGOTIATING RELATIONSHIPS.
18 The Ethics of Respect in Negotiation (Jonathan R. Cohen).
19 Everyday Negotiation: Navigating the Hidden Agendas in Bargaining (Deborah M. Kolb, Judith Williams).
20 Bargaining and the Ethics of Process (Eleanor Holmes Norton).
PART FIVE: NEGOTIATION AND AGENTS.
21 Professional Detachment: The Executioner of Paris (Arthur Isak Applbaum).
22 The Professionalism and Accountability of Lawyers (Murray L. Schwartz).
23 A Causerie on Lawyer's Ethics in Negotiation (Alvin B. Rubin).
PART SIX: SOCIAL INFLUENCES AND IMPACTS.
24 Lies for the Public Good (Sissela Bok).
25 Does Studying Economics Inhibit Cooperation? (Robert H. Frank, Thomas Gilovich, Dennis T. Regan).
26 Half-Truths: Protecting Mistaken Inferences by Investors and Others (Donald C. Langevoort).
27 Mindfulness in the Law and Alternative Dispute Resolution (Scott R. Peppet).
28 Protecting the Confidentiality of Settlement Negotiations (Wayne D. Brazil).
29 Settlements and the Erosion of the Public Realm (David Luban).
30 Public Access to Private Settlements (Carrie Menkel-Meadow).
31 Expanding the Ethical Obligations of the Mediator: Mediator Accountability to Parties Not at the Table (Lawrence Susskind).
Bibliography.
The Contributors.
Index.
See More
Carrie Menkel-Meadow
is professor of law at the Georgetown Law Center in Washington D.C., and associate editor of Negotiation Journal. She is the chair of Georgetown Center for Public Resources Commission on Ethics and Standards in ADR and director, Georgetown-Hewlett Program in Conflict Resolution and Legal Problem Solving.
Michael Wheeler is Class of 1952 Management Professor at the Harvard Business School, a member of the Steering Committee of the Program on Negotiation at Harvard Law School, and editor of Negotiation Journal.
See More