E-book
The Social Media Bible: Tactics, Tools, and Strategies for Business Success, 2nd Edition
ISBN: 978-1-118-01010-5
March 2012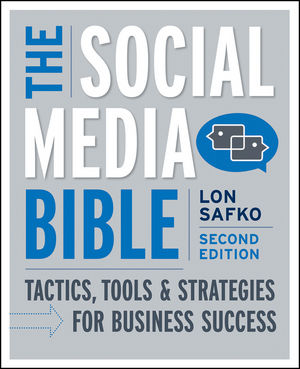 The bestselling bible for social media is now completely revised and updated!
The Social Media Bible, Second Edition (www.TSMB2.com) is the most comprehensive resource that transforms the way corporate, small business, and non-profit companies use social media to reach their desired audiences with power messages and efficiency. In this Second Edition, each of the three parts - Tactics, Tools, and Strategies - have been updated to reflect the most current social media trends.
Covers all major new software applications, including features and benefits, in detail
Lists more than 120 companies integral to the social media industry with updated data, products, services, and links
Includes advanced topics like measuring social media return on investment (ROI) and how to develop and implement the Five Steps to Social Media Success strategy plan
Includes dozens of social media ROI case studies
Author is a widely acknowledged social media authority with numerous media appearances and speaking engagements
The Social Media Bible, Second Edition gives you a fully up-to-date toolbox to revamp your marketing strategy and create new opportunities for growth.
See More
ACKNOWLEDGMENTS.
INTRODUCTION.
PART I: Tactics.
CHAPTER 1 What Is Social Media?
CHAPTER 2 Say Hello to Social Networking.
CHAPTER 3 Everyone's a Publisher.
CHAPTER 4 It's Not Your Father's E-Mail.
CHAPTER 5 The World of Web Pages.
CHAPTER 6 The Internet Forum.
CHAPTER 7 The Ubiquitous Blog.
CHAPTER 8 The Wisdom of the Wiki.
CHAPTER 9 A Picture Is Worth a Thousand Words (Photo Sharing).
CHAPTER 10 Talking about the Podcast (Audio Create).
CHAPTER 11 Got Audio? (Audio Sharing).
CHAPTER 12 Watch Out for Vlogs (Video Create).
CHAPTER 13 Got Video? (Video Sharing).
CHAPTER 14 Thumbs Up for Microblogging.
CHAPTER 15 Live from Anywhere—It's Livecasting.
CHAPTER 16 Virtual Worlds—Real Impact.
CHAPTER 17 Gaming the System: Virtual Gaming.
CHAPTER 18 RSS—Really Simple Syndication Made Simple.
CHAPTER 19 Spotlight on Search (Search Engine Optimization).
CHAPTER 20 Marketing Yourself (Search Engine Marketing).
CHAPTER 21 The Formidable Fourth Screen (Mobile).
CHAPTER 22 Let the Conversation Begin (Interpersonal).
PART II: Tools.
CHAPTER 23 Social Networks.
CHAPTER 24 Publish.
CHAPTER 25 Photo.
CHAPTER 26 Audio.
CHAPTER 27 Video.
CHAPTER 28 Microblogging.
CHAPTER 29 Livecasting.
CHAPTER 30 Virtual Worlds.
CHAPTER 31 Gaming.
CHAPTER 32 Productivity Applications.
CHAPTER 33 Aggregators.
CHAPTER 34 RSS.
CHAPTER 35 Search.
CHAPTER 36 Mobile.
CHAPTER 37 Interpersonal.
PART III: Strategy.
CHAPTER 38 Analyze Your Existing Media.
CHAPTER 39 The Social Media Trinity.
CHAPTER 40 Integrate Strategies.
CHAPTER 41 Identify Resources.
CHAPTER 42 Implement and Measurement.
BIOGRAPHIES OF OUR EXPERTS.
INDEX.
See More
Lon Safko is a social media author, speaker, coach, and strategist. With over 25 years of experience, Lon works with Fortune 1,000 companies across the United States to help them develop effective social media marketing strategies.
See More