To Improve the Academy: Resources for Faculty, Instructional, and Organizational Development, Volume 30
ISBN: 978-1-118-01131-7
368 pages
October 2011, Jossey-Bass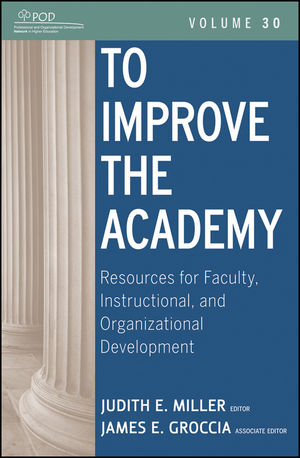 An annual publication of the Professional and Organizational Development Network in Higher Education (POD), To Improve the Academy offers a resource for improvement in higher education to faculty and instructional development staff, department chairs, faculty, deans, student services staff, chief academic officers, and educational consultants.
Contents include:
Graduate student internships as a pathway to the profession of educational development

Preparing faculty to develop hybrid courses

Writing groups for work-life balance

A faculty learning community approach to tenure and promotion

Helping faculty integrate citizenship into the curriculum

Students' perspectives on enhancing communication with faculty

Effecting change in limited-control classroom environments

A laboratory research group model for the scholarship of teaching and learning

Institutional encouragement of the scholarship of teaching and learning

Multiple definitions of critical thinking

Faculty development and governance collaborating on curriculum revision

Academic dishonesty among international students

Serving veterans with disabilities

Working with psychologically impaired faculty

Leadership development for faculty of color

Diffusing the impact of tokenism on faculty of color

Difficult Dialogues for cross-cultural faculty development

Faculty development beyond instructional development

Fundraising by teaching centers

Evaluation of teaching and learning centers

Faculty development career disruptions

Emergent shifts in the faculty development portfolio
See More
About the Authors xiii
Preface xxvii
Acknowledgments xxxiii
Ethical Guidelines for Educational Developers xxxv
SECTION ONE
Promoting Our Colleagues' Professional Success
1 Graduate Student Internships as a Pathway to the Profession of Educational Development 3
Kathryn E. Linder, Stephanie V. Rohdieck, Alan Kalish, Teresa A. Johnson, Kathryn M. Plank, Laurie A. Maynell
2 The Digital Academy: Preparing Faculty for Digital Course Development 17
Sunay V. Palsole, Beth L. Brunk-Chavez
3 Writing Groups for Work-Life Balance: Faculty Writing Group Leaders Share Their Stories 31
Dannielle Joy Davis, Kara Provost, Amanda E. Major
4 Reflecting Together About Tenure and Promotion: A Faculty Learning Community Approach 43
Leslie G. McBride, Janelle DeCarrico Voegele
5 The Citizenship Imperative and the Role of Faculty Development 54
Jeffrey L. Bernstein, Rebecca S. Nowacek, Michael B. Smith
SECTION TWO
Supporting Institutional Priorities
6 Enhancing Out-of-Class Communication: Students' Perspectives 71
Bonnie S. Farley-Lucas, Margaret M. Sargent
7 Effecting Change in Limited-Control Classroom Environments: A Case Study 85
Allison P. Boye
8 Adapting a Laboratory Research Group Model to Foster the Scholarship of Teaching and Learning 99
Beth A. Fisher, Regina F. Frey
9 Institutional Encouragement of and Faculty Engagement in the Scholarship of Teaching and Learning 112
Thomas F. Nelson Laird, Tony Ribera
10 Defining Critical Thinking in Higher Education: Determining Assessment Fit 126
Martha L. A. Stassen, Anne Herrington, Laura Henderson
11 Curriculum Revision and Cultural Change: A Joint Faculty Development and Faculty Governance Approach 142
Terre H. Allen, David A. Horne, Ingrid M. Martin, Michael E. Solt
SECTION THREE
Broadening the Campus Context
12 Academic Dishonesty Among International Students in Higher Education 159
Krishna K. Bista
13 Forty Percent of 2 Million: Preparing to Serve Our Veterans with Disabilities 173
Bruce C. Kelley, Ernetta L. Fox, Justin M. Smith, Lisa A. Wittenhagen
14 Working Effectively with Psychologically Impaired Faculty 186
Carolyn B. Oxenford, Sally L. Kuhlenschmidt
15 Next Generation @ IUPUI: A Leadership Development Program for Faculty of Color 202
Megan M. Palmer, Julianna V. Banks, Joshua S. Smith, Sherree A. Wilson
16 Diffusing the Impact of Tokenism on Faculty of Color 216
Yolanda Flores Niemann
17 Difficult Dialogues and Transformational Change Through Cross-Cultural Faculty Development 230
Elizabeth Roderick
SECTION FOUR
Developing Our Craft
18 Faculty Development Beyond Instructional Development: Ideas Centers Can Use 247
Mary Deane Sorcinelli, Tara Gray, A. Jane Birch
19 Go for the Gold: Fundraising for Teaching Centers 262
Mark A. Hohnstreiter, Tara Gray
20 How Mature Teaching and Learning Centers Evaluate Their Services 277
Susan R. Hines
21 Faculty Development as a Hazardous Occupation 290
Linda B. Nilson, Edward B. Nuhfer, Bonnie B. Mullinix
22 Emergent Shifts in Faculty Development: A Reflective Review 306
Shelda Debowski
See More
Judith E. Miller is executive director of assessment at the University of North Florida in Jacksonville.
James E. Groccia, former president of POD, is director of the Biggio Center for the Enhancement of Teaching and Learning and associate professor of higher education at Auburn University.
See More
Learn more about