Nikon D7000 For Dummies
ISBN: 978-1-118-01202-4
400 pages
February 2011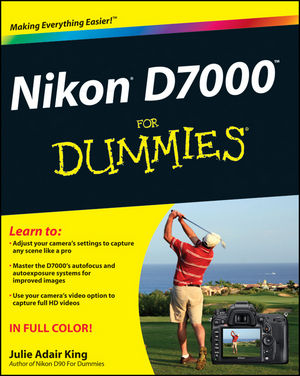 Learn all about the Nikon D7000?the fun and friendly For Dummies way!
Whether you?re a digital camera beginner or an experienced photographer, this is the book you need to get the most out of the Nikon D7000, the update to Nikon?s popular D90 model. The helpful tips and tricks in this fun and easy guide will get you quickly up to speed on the D7000?s 16-megapixel sensor, 1080 HD video capabilities, eight-frames-per-second burst, improved ISO, and much more.
Helps you get every bit of functionality out of the Nikon D7000 camera
Walks you through its exciting new features, including the 16-megapixel sensor, 1080 HD video, 8-frames-per-second burst, improved ISO, and 39 autofocus points
Guides you through the basics and beyond on lighting, exposure, focus, and color
Reviews the important steps of getting photos from the camera to a PC, developing an effective file system, and sharing photos via print or online
Shares photo-retouching tips and unique features of the camera that can be applied to various shooting situations
Shoot stills, shoot video, and shoot, you?re a professional photographer! It all starts here, with this great guide.
See More
Introduction 1
Part I: Fast Track to Super Snaps 5
Chapter 1: Getting the Lay of the Land 7
Chapter 2: Choosing Basic Picture Settings 47
Chapter 3: Taking Great Pictures, Automatically 77
Chapter 4: Exploring Live View Photography and Movie Making 95
Part II: Working with Picture Files 125
Chapter 5: Playback Mode: Viewing, Erasing, and Protecting Photos 127
Chapter 6: Downloading, Printing, and Sharing Your Photos 163
Part III: Taking Creative Control 201
Chapter 7: Getting Creative with Exposure and Lighting 203
Chapter 8: Manipulating Focus and Color 257
Chapter 9: Putting It All Together 305
Part IV: The Part of Tens 321
Chapter 10: Ten Fun and Practical Retouch Menu Features 323
Chapter 11: Ten Special-Purpose Features to Explore on a Rainy Day 349
Index 371
See More
Julie Adair King has been writing about digital photography since her first edition of Digital Photography For Dummies in 1997. She has written numerous books on Nikon and Canon cameras, and she conducts digital photography classes at the Palm Beach Photographic Centre.
See More