E-book
Football For Dummies, 4th US Edition
ISBN: 978-1-118-01265-9
408 pages
May 2011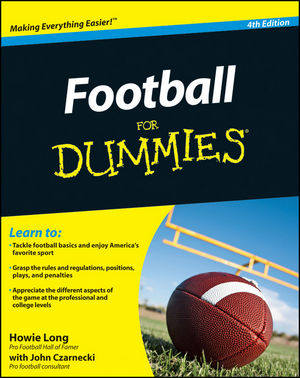 The fun and easy way to tackle football basics and enjoy America's most popular sport
Since the last edition of Football For Dummies, new stadiums have been built, new stars have ascended, and records have been broken. This new edition has been revised to reflect today's game, giving football fans up-to-the-minute information on all the rules and regulations, positions, plays, and penalties.
Featuring coverage of the newest stadium technologies, revised greatest players and legends, and pro-football must-do experiences, it also includes expert advice on training and gearing up for those who play the game.
The complete fan's updated guide to football
Revised material on new players, stadiums, and strategies
Written by football legend Howie Long and revered analyst John Czarnecki
From peewees to the pros, this hands-on, friendly guide covers the nuts and bolts of football for fans of all ages and experience levels.
See More
Introduction.
Part I: Football 101.
Chapter 1: America's Greatest Game.
Chapter 2: Meet Me on the Gridiron.
Chapter 3: Them's the Rules (And Regulations).
Part II: Go, Offense!
Chapter 4: The Quarterback, Football's MVP.
Chapter 5: The Passing Game.
Chapter 6: Hitting the Ground Running.
Chapter 7: The Offensive Line at Work in the Trenches.
Chapter 8: Examining Offensive Plays and Strategies.
Part III: The Big D.
Chapter 9: These Guys Are Huge: The Defensive Line.
Chapter 10: The Secondary: Last Line of Defense.
Chapter 11: Delving into Defensive Tactics and Strategies.
Part IV: Meet the Rest of the Team.
Chapter 12: Special Teams, Masters of the Kicking Game.
Chapter 13: Coaches, General Managers, and Other Important Folks.
Part V: Football for Everyone.
Chapter 14: Armchair Quarterbacks and Other Fabulous Fans.
Chapter 15: Youth Leagues and High School Football.
Chapter 16: College Football — Where It All Started.
Chapter 17: Taking a Look at the NFL (And Other Professional Leagues).
Chapter 18: Playing Fantasy Football.
Part VI: The Part of Tens.
Chapter 19: The Ten (Or So) Greatest Defensive Players of All Time.
Chapter 20: More Than Ten Top Offensive Players.
Chapter 21: The Ten Greatest Coaches in the History of the Game.
Chapter 22: The Ten Best Teams of All Time.
Chapter 23: The Ten Most Intense College Football Rivalries.
Part VII: Appendixes.
Appendix A: Football Speak.
Appendix B: Get Your Tickets Here.
Index.
See More
Howie Long
is a former Oakland/Los Angeles Raider with eight Pro Bowl appearances, a Super Bowl win, and a spot in the Pro Football Hall of Fame.
John Czarnecki is a professional football consultant.
See More