E-book
Invest in Penny Stocks: A Guide to Profitable Trading
ISBN: 978-1-118-01329-8
224 pages
February 2011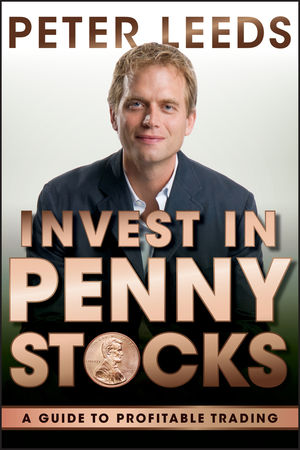 So, you're interested in penny stocks!
Investing in the right penny stocks is one of the mostlucrative ways to make money in the stock market. With the help of The Penny Stock Professional, Peter Leeds, investors can find the best shares with the greatest upside potential while minimizing risk. Invest in Penny Stocks introduces you to Leeds Analysis and shows you how to find penny stocks that are about to spike in price. Discover:
How to find the highest quality penny stocks

Which penny stocks to avoid

How to trade risk free

The best buying prices

When to take profits
If you are interested in investing in penny stocks thenlearn the techniques of The Penny Stock Professional.Invest in Penny Stocks is the only book of its kind andthe tool for penny stock traders.
See More
Preface.
Experience Level Rating System (E.L.).
Chapter 1: The Big Business Of Penny Stocks.
Penny Stocks Are Big Business.
Chapter 2: Getting Started In Penny Stocks.
Chapter 3: Avoid Your Rough Start.
My Rocky Start.
Chapter 4: Leeds Analysis.
What Leeds Analysis Can Do.
Chapter 5: Third Level Analysis.
Welcome to Third Party Analysis.
Chapter 6: Fundamental Analysis.
The Importance of Fundamentals.
Chapter 7: Share Structure.
Shares - Starting from the Beginning.
Chapter 8: Technical Analysis.
Welcome to Technical Analysis.
Conclusion: The Way of Penny Stocks.
Acknowledgments.
About the Author.
Get More From Peter Leeds!
Index.
See More
PETER LEEDS is The Penny Stock Professional,the most widely recognized personality associated with low-priced stocks. Along with the help of his team, he publishes Peter Leeds Penny Stocks, an online service that has sold 35,000 subscriptions, making it one of the most popular financial newsletters in North America. He frequently appears on main stream media, including NBC, CBS, CNN, Fox Business, and in dozens of other newspaper, radio, and Internet outlets.
See More
Learn more about