I Am John Galt: Today's Heroic Innovators Building the World and the Villainous Parasites Destroying It
ISBN: 978-1-118-01378-6
Hardcover
307 pages
May 2011
US $27.95

Add to Cart
This price is valid for United States. Change location to view local pricing and availability.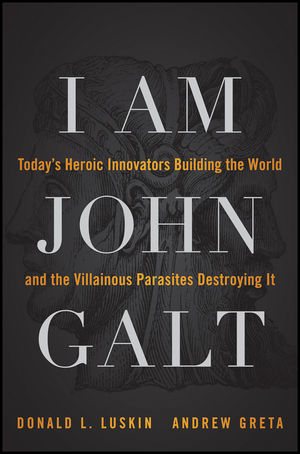 Other Available Formats:
E-book
Introduction.
Chapter 1 The Individualist.
Steve Jobs as Howard Roark, the man who reinvented four whole industries just because it was so cool (Andrew Greta).
Chapter 2 The Mad Collectivist.
Paul Krugman as Ellsworth Toohey, the man who preaches socialism from the pages of America's newspaper of record (Donald L. Luskin).
Chapter 3 The Leader.
John Allison as John Galt, the man who walked away after building America's strongest bank (Donald L. Luskin).
Chapter 4 The Parasite.
Angelo Mozilo as James Taggart, the businessman who corrupted government and nearly wrecked the U.S. economy (Andrew Greta).
Chapter 5 The Persecuted Titan.
Bill Gates as Henry Rearden, the businessman who created revolutionary technologies and was criminalized for his success (Andrew Greta).
Chapter 6 The Central Planner.
Barney Frank as Wesley Mouch, the politician who meddled in the economy and almost destroyed it (Andrew Greta).
Chapter 7 The Capitalist Champion.
T. J. Rodgers as Francisco d'Anconia, the modern Renaissance man and agent provocateur for capitalism (Andrew Greta).
Chapter 8 The Sellout.
Alan Greenspan as Robert Stadler, the libertarian who became an economic czar (Donald L. Luskin).
Chapter 9 The Economist of Liberty.
Milton Friedman as Hugh Akston, the academic who showed the world the connection between capitalism and freedom (Andrew Greta & Donald L. Luskin).
Afterword.
Notes.
Acknowledgments.
About the Authors.
Index.