Digital Wedding Photography Photo Workshop
ISBN: 978-1-118-01411-0
Paperback
288 pages
May 2011
US $29.99

Add to Cart
This price is valid for United States. Change location to view local pricing and availability.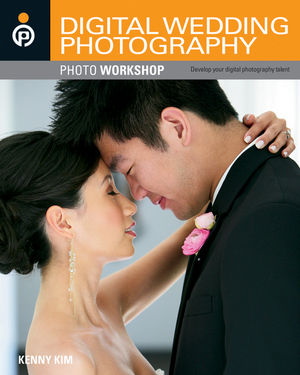 Other Available Formats:
E-book
October 04, 2011
Digital Wedding Photography Photo Workshop
Connect with Wiley Publicity
Wedding photography is one of the fastest-growing areas of the photography industry. It's a demanding, exhilarating world, focused on capturing moments that can never be recreated. For anyone plunging into the adventure that is wedding photography or expanding an existing business, Wiley has published DIGITAL WEDDING PHOTOGRAPHY PHOTO WORKSHOP (Wiley; $29.99; May 2011) to help photographers master the skills that not only improve images, but also assist readers to find the right clients, market their work, and keep their business on a solid footing. Filled with top wedding photographer and author Kenny Kim's stunning wedding photography, this new addition to the Photo Workshop series offers beginner and intermediate digital photographers the guidance and skills they need to capture dynamic wedding photographs.
Voted as one of the best wedding photographers in the country by The Knot, Kenny Kim walks readers through the essential techniques for wedding photography, and covers lighting and exposure techniques for bright, normal, and low-light situations, common within the world of wedding photography. He also breaks down the ins and outs of business basics, post-production editing, composition, posing, and much more. DIGITAL WEDDING PHOTOGRAPHY PHOTO WORKSHOP is a complete guide to wedding photography covering the key concepts and skills necessary for successful wedding photography. Offering stunning photography and inspiration for all levels of wedding photographers, there are assignments at the end of every chapter allowing readers to practice their skills and upload their photos to www.pwassignments.com com to share their images and receive constructive critiques. Coverage includes:
Learning to manage time and plan each detail
Brushing up on photography basics as they apply to wedding photography
Developing a unique style
Finding the essential balance between creativity and business acumen
Preparing for the unexpected
Presenting stunning photography and inspiration for all levels of wedding photographers, DIGITAL WEDDING PHOTOGRAPHY PHOTO WORKSHOP lets photographers get a handle on the job's technical and creative requirements, so they can be better equipped to make their clients happy and attract new customers. Aspiring and current wedding photographers will find this book to be an essential addition to their bookshelf.
ABOUT THE AUTHOR:
Kenny Kim (Chicago, Illinois) has photographed weddings in the Caribbean, Mexico, Italy, and throughout the United States. His clients include high-profile celebrities, and his work has been featured in leading industry publications including Destination Weddings & Honeymoon and The Knot. Kenny is one of Kodak's Approved Speakers for 2011. Follow his blog and view his photos at blog.kennykim.com. You can also follow him on twitter @kennykim.
Photoworkshop.com is the brand behind this series of educational and inspirational books for photographers. The website receives 40,000+ visitors each day who come to develop their skills as photographers and share their portfolios. Their magazine, Double Exposure, has evolved into a very successful online magazine that delivers educational content, inspiring articles, and industry information to 50,000 targeted subscribers.
About Wiley
Founded in 1807, John Wiley & Sons, Inc. has been a valued source of information and understanding for more than 200 years, helping people around the world meet their needs and fulfill their aspirations. Wiley and its acquired companies have published the works of more than 450 Nobel laureates in all categories: Literature, Economics, Physiology or Medicine, Physics, Chemistry, and Peace.
Our core businesses publish scientific, technical, medical, and scholarly journals, encyclopedias, books, and online products and services; professional/trade books, subscription products, training materials, and online applications and Web sites; and educational materials for undergraduate and graduate students and lifelong learners. Wiley's global headquarters are located in Hoboken, New Jersey, with operations in the U.S., Europe, Asia, Canada, and Australia. The Company's Web site can be accessed at http://www.wiley.com. The Company is listed on the New York Stock Exchange under the symbols JWa and JWb.
Follow Wiley Digital Photography on Facebook at www.facebook.com/WileyPhotoFocus