101 Weird Ways to Make Money: Cricket Farming, Repossessing Cars, and Other Jobs With Big Upside and Not Much Competition
ISBN: 978-1-118-01418-9
Paperback
288 pages
July 2011
US $19.95

Add to Cart
This price is valid for United States. Change location to view local pricing and availability.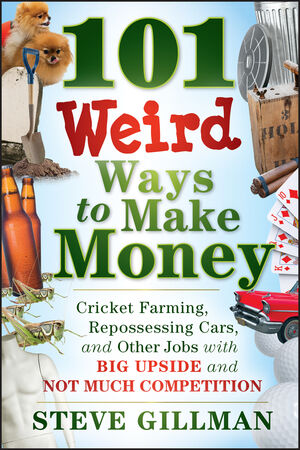 Other Available Formats:
E-book
July 11, 2011
101 Weird Ways to Make Money
Connect with Wiley Publicity
Month after month, the U.S. Bureau of Labor Statistics reports unemployment rates that creep upward or stay dormant, leaving a bleak picture of the job market. With so many people out of jobs and competing against each other for those few positions that are opening in corporate America, it seems many may need to find a new career plan.
For those looking for out-of-the-ordinary career ideas, Steve Gillman, author of 101 Weird Ways to Make Money: Cricket Farming, Repossessing Cars, and Other Jobs With Big Upside and Not Much Competition (Wiley; Paperback and eBook; August 2011; $19.95; ISBN: 978-1-118-01418-9) shares hundreds of quirky, yet profitable, job ideas for those willing to take a leap into a new profession.
Using interviews with unconventional entrepreneurs, the author's own wide-ranging experience with weird jobs, and extensive research, 101 Weird Ways to Make Money reveals fun, sometimes dirty, occasionally dangerous, yet incredibly profitable jobs and businesses. Gillman groups the dozens of unusual jobs, such as cricket and maggot farming, environmentally friendly burials, making and selling solar-roasted coffee, into segregated chapters such as, "Making Money Outdoors," Green Jobs and Business," "Working with Animals," and many more. Additional jobs and businesses explored include:
Crime-scene cleaning

Niche street vending

Septic cleaning

Salvaging and selling scrap metals

Fish tank cleaning

Chasing geese and other birds from golf courses
Whether readers are seeking a new career, an additional revenue stream, are currently unemployed or have dreamed of starting their own business, 101 Weird Ways to Make Money is targeted toward those who are looking for work that suits an independent spirit and freedom from bosses and corporate cube farms. The book delivers 101 alternative ventures along with the keys to making them wildly successful. In addition, most of these jobs don't require extensive training, and are also scalable as businesses, allowing readers to build on their initial success.
Gillman's book is not just full of stories about interestingly abnormal jobs - it advises readers on how to become an out-of-the-box entrepreneur. Gillman guides readers though the concept, scaling up and hiring employees, then moving on to bigger ventures, such as contracting out to larger companies. A "Where the Money Is" section at the end of each chapter suggests ways to make more than a little extra cash or even more than just a living.
Smart, creative people have already made millions of dollars in these "dirty" or "odd" jobs and 101 Weird Ways to Make Money shares the secrets for turning these strange ventures into moneymakers.