CompTIA Security+ Deluxe Study Guide Recommended Courseware: Exam SY0-301
ISBN: 978-1-118-01474-5
696 pages
July 2011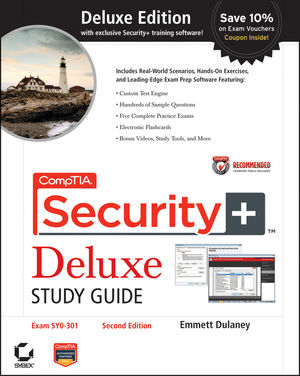 Get a host of extras with this Deluxe version including a Security Administration Simulator!
Prepare for CompTIA's new Security+ exam SY0-301 with this Deluxe Edition of our popular CompTIA Security+ Study Guide, 5th Edition. In addition to the 100% coverage of all exam essentials and study tools you'll find in the regular study guide, the Deluxe Edition gives you over additional hands-on lab exercises and study tools, three additional practice exams, author videos, and the exclusive Security Administration simulator. This book is a CompTIA Recommended product.
Provides 100% coverage of all exam objectives for Security+ exam SY0-301 including:

Network security
Compliance and operational security
Threats and vulnerabilities
Application, data and host security
Access control and identity management
Cryptography

Features Deluxe-Edition-only additional practice exams, value-added hands-on lab exercises and study tools, and exclusive Security Administrator simulations, so you can practice in a real-world environment
Covers key topics such as general security concepts, communication and infrastructure security, the basics of cryptography, operational security, and more
Shows you pages of practical examples and offers insights drawn from the real world
Get deluxe preparation, pass the exam, and jump-start your career. It all starts with CompTIA Security+ Deluxe Study Guide, 2nd Edition.
See More
Foreword xxv
Introduction xxix
Assessment Test l
Chapter 1 Measuring and Weighing Risk 1
Chapter 2 Infrastructure and Connectivity 27
Chapter 3 Protecting Networks 81
Chapter 4 Threats and Vulnerabilities 121
Chapter 5 Access Control and Identity Management 175
Chapter 6 Educating and Protecting the User 207
Chapter 7 Operating System and Application Security 245
Chapter 8 Cryptography Basics 291
Chapter 9 Cryptography Implementation 339
Chapter 10 Physical and Hardware-Based Security 375
Chapter 11 Security and Vulnerability in the Network 401
Chapter 12 Wireless Networking Security 429
Chapter 13 Disaster Recovery and Incident Response 455
Chapter 14 Security-Related Policies and Procedures 499
Chapter 15 Security Administration 529
Appendix A About the Companion CD 567
Glossary 571
Index 613
See More
Emmett Dulaney is an associate professor at Anderson University. He has written several certification books on Windows, Security, IT project management, and UNIX, and is coauthor of two of Sybex's leading certification titles: CompTIA Security+ Study Guide and CompTIA A+ Complete Study Guide. He is also a well-known certification columnist for Redmond magazine and CertCities.com.
See More
Do you think you've discovered an error in this book? Please check the list of errata below to see if we've already addressed the error. If not, please submit the error via our Errata Form. We will attempt to verify your error; if you're right, we will post a correction below.
Chapter
Page
Details
Date
Print Run
2
37
Text correction: Typographical Error
"UPD ports" at the end of the last sentence before the Exercise should read:

"UDP ports"
10/18/11
5
195
Text correction: Typographical Error
In the first sentence of the last paragraph on the page, "BPN" should be "VPN"
10/18/11
12
436
Text correction: Error in Figure 12.6
"WDP" is represented twice in the diagram. The first (top) instance of "WDP" should show "WTP". In order from the top, the layers should read WSP, WTP, WTLS, WDP.
7/9/12
See More
Learn more about