E-book
Making Thinking Visible: How to Promote Engagement, Understanding, and Independence for All Learners
ISBN: 978-1-118-01503-2
320 pages
March 2011, Jossey-Bass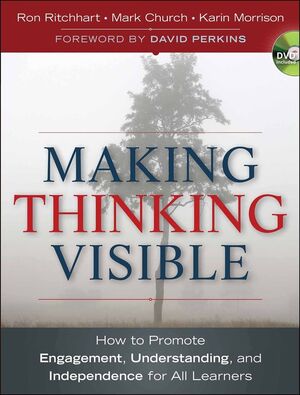 A proven program for enhancing students' thinking and comprehension abilities
Visible Thinking is a research-based approach to teaching thinking, begun at Harvard's Project Zero, that develops students' thinking dispositions, while at the same time deepening their understanding of the topics they study.  Rather than a set of fixed lessons, Visible Thinking is a varied collection of practices, including thinking routines?small sets of questions or a short sequence of steps?as well as the documentation of student thinking. Using this process thinking becomes visible as the students' different viewpoints are expressed, documented, discussed and reflected upon.
Helps direct student thinking and structure classroom discussion
Can be applied with students at all grade levels and in all content areas
Includes easy-to-implement classroom strategies
The book also comes with a DVD of video clips featuring Visible Thinking in practice in different classrooms.
See More
List of Figures and Tables ix
DVD Contents xi
Foreword xiii
Preface xvii
Acknowledgments xxi
About the Authors xxv
PART ONE Some Thinking About Thinking 1
ONE Unpacking Thinking 3
Beyond Bloom 6
Beyond Memorization, Work, and Activity 8
A Map of Thinking Involved in Understanding 11
Other Kinds of Thinking 14
Uncovering Students' Thinking About Thinking 15
TWO Putting Thinking at the Center of the Educational Enterprise 23
How Does Visibility Serve Both Learning and Teaching? 27
How Can We Make the Invisible Visible? 30
PART TWO Using Thinking Routines to Make Thinking Visible 41
THREE Introduction to Thinking Routines 43
ThreeWays of Looking at Thinking Routines 45
How Are the Thinking Routines Organized? 49
FOUR Routines for Introducing and Exploring Ideas 53
See-Think-Wonder 55
Zoom In 64
Think-Puzzle-Explore 71
Chalk Talk 78
3-2-1 Bridge 86
Compass Points 93
The Explanation Game 101
FIVE Routines for Synthesizing and Organizing Ideas 109
Headlines 111
CSI: Color, Symbol, Image 119
Generate-Sort-Connect-Elaborate: Concept Maps 125
Connect-Extend-Challenge 132
The 4C's 140
The Micro Lab Protocol 147
I Used to Think. . . , Now I Think . . . 154
SIX Routines for Digging Deeper into Ideas 163
What Makes You Say That? 165
Circle of Viewpoints 171
Step Inside 178
Red Light, Yellow Light 185
Claim-Support-Question 191
Tug-of-War 199
Sentence-Phrase-Word 207
PART THREE Bringing the Power of Visible Thinking to Life 215
SEVEN Creating a Place Where Thinking Is Valued, Visible, and Actively Promoted 217
Making Room for Reflection 222
Making Time for Our Own Learning 229
The Making of an Elaborated Conversation 234
The Forces That Shape Culture 240
EIGHT Notes from the Field 247
The Challenges of Making Thinking Visible in a Mathematics Class and Beyond: The Case of Mark Church 250
Content + Routines + Students = A Culture of Thinking: The Case of Sharonne Blum 256
What These Cases Reveal About the Use of Routines 261
Stages of Development in the Use of Thinking Routines 262
Common Pitfalls and Struggles 267
In Conclusion 272
References 275
Index 281
How to Use the DVD 293
See More
Ron Ritchhart, Ed.D. is a senior researcher at Project Zero, Harvard Graduate School of Education. He is the author of Intellectual Character from Jossey-Bass.
Mark Church is the Learning, Assessment, and Instructional Resource Supervisor for the Traverse City Area Public Schools in Michigan.
Karin Morrison is director of The Development Centre at Independent Schools Victoria, Australia and instructor for the WIDE World online course, Making Thinking Visible, at Harvard.
See More