Organic Nanomaterials: Synthesis, Characterization, and Device Applications
ISBN: 978-1-118-01601-5
622 pages
October 2013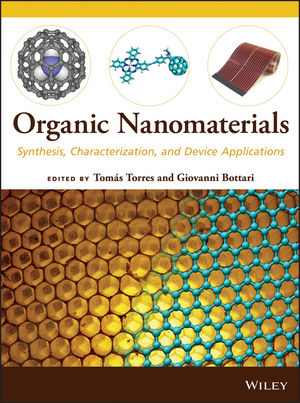 Discover a new generation of organic nanomaterials and their applications
Recent developments in nanoscience and nanotechnology have given rise to a new generation of functional organic nanomaterials with controlled morphology and well-defined properties, which enable a broad range of useful applications. This book explores some of the most important of these organic nanomaterials, describing how they are synthesized and characterized. Moreover, the book explains how researchers have incorporated organic nanomaterials into devices for real-world applications.
Featuring contributions from an international team of leading nanoscientists, Organic Nanomaterials is divided into five parts:
Part One introduces the fundamentals of nanomaterials and self-assembled nanostructures
Part Two examines carbon nanostructures—from fullerenes to carbon nanotubes to graphene—reporting on properties, theoretical studies, and applications
Part Three investigates key aspects of some inorganic materials, self-assembled monolayers, organic field effect transistors, and molecular self-assembly at solid surfaces
Part Four explores topics that involve both biological aspects and nanomaterials such as biofunctionalized surfaces
Part Five offers detailed examples of how organic nanomaterials enhance sensors and molecular photovoltaics
Most of the chapters end with a summary highlighting the key points. References at the end of each chapter guide readers to the growing body of original research reports and reviews in the field.
Reflecting the interdisciplinary nature of organic nanomaterials, this book is recommended for researchers in chemistry, physics, materials science, polymer science, and chemical and materials engineering. All readers will learn the principles of synthesizing and characterizing new organic nanomaterials in order to support a broad range of exciting new applications.
See More
Preface vii
Contributors ix
1 A Proposed Taxonomy and Classification Strategy for Well-Defined, Soft-Matter Nanoscale Building Blocks 1
Jørn B. Christensen and Donald A. Tomalia
2 On the Role of Hydrogen-Bonding in the Nanoscale Organization of π-Conjugated Materials 33
Albertus P. H. J. Schenning and David Gonzalez-Rodrýguez
3 Chiral Organic Nanomaterials 59
David B. Amabilino
4 Biochemical Nanomaterials based on Poly(ε-caprolactone) 79
Irakli Javakhishvili and Søren Hvilsted
5 Self-Assembled Porphyrin Nanostructures and their Potential Applications 103
John A. Shelnutt and Craig J. Medforth
6 Nanostructures and Electron-Transfer Functions of Nonplanar Porphyrins 131
Shunichi Fukuzumi and Takahiko Kojima
7 Tweezers and Macrocycles for the Molecular Recognition of Fullerenes 147
David Canevet, Emilio M. Perez, and Nazario Martýn
8 Covalent, Donor–Acceptor Ensembles based on Phthalocyanines and Carbon Nanostructures 163
Giovanni Bottari, Maxence Urbani, and Tomas Torres
9 Photoinduced Electron Transfer of Supramolecular Carbon Nanotube Materials Decorated with Photoactive Sensitizers 187
Francis D'Souza, Atula S. D. Sandanayaka, and Osamu Ito
10 Interfacing Porphyrins/Phthalocyanines with Carbon Nanotubes 205
Juergen Bartelmeß and Dirk M. Guldi
11 Organic Synthesis of Endohedral Fullerenes Encapsulating Helium, Dihydrogen, and Water 225
Michihisa Murata, Yasujiro Murata, and Koichi Komatsu
12 Fundamental and Applied Aspects of Endohedral Metallofullerenes as Promising Carbon Nanomaterials 241
Michio Yamada, Xing Lu, Lai Feng, Satoru Sato, Yuta Takano, Shigeru Nagase, and Takeshi Akasaka
13 An Update on Electrochemical Characterization and Potential Applications of Carbon Materials 259
Fang-Fang Li, Adri´an Villalta-Cerdas, Lourdes E. Echegoyen, and Luis Echegoyen
14 Solvating Insoluble Carbon Nanostructures by Molecular Dynamics 311
Matteo Calvaresi and Francesco Zerbetto
15 Inorganic Capsules: Redox-Active Guests in Metal Cages 331
Andrew Macdonell and Leroy Cronin
16 Stimuli-Responsive Monolayers 347
Francesca A. Scaramuzzo, Mario Barteri, Pascal Jonkheijm, and Jurriaan Huskens
17 Self-Assembled Monolayers as Model Biosurfaces 369
Anna Laromaine and Charles R. Mace
18 Low-Dimensionality Effects in Organic Field Effect Transistors 397
Stefano Casalini, Tobias Cramer, Francesca Leonardi, Massimiliano Cavallini, and Fabio Biscarini
19 The Growth of Organic Nanomaterials by Molecular Self-Assembly at Solid Surfaces 421
Jose M. Gallego, Roberto Otero, and Rodolfo Miranda
20 Biofunctionalized Surfaces 447
Marisela Velez
21 Carbon Nanotube Derivatives as Anticancer Drug Delivery Systems 469
Chiara Fabbro, Tatiana Da Ros, and Maurizio Prato
22 Porous Nanomaterials for Biomedical Applications 487
Henning Lulf, Andr´e Devaux, Eko Adi Prasetyanto, and Luisa De Cola
23 Dicationic Gemini Nanoparticle Design for Gene Therapy 509
Mahmoud Elsabahy, Ildiko Badea, Ronald Verrall, McDonald Donkuru, and Marianna Foldvari
24 Sensing Hg(II) Ions inWater: From Molecules to Nanostructured Molecular Materials 529
Imma Ratera, Alberto Tarraga, Pedro Molina, and Jaume Veciana
25 Organic Nanomaterials for Efficient Bulk Heterojunction Solar Cells 549
Pavel A. Troshin and Niyazi Serdar Sariciftci
26 Mesoscopic Dye-Sensitized Solar Cells 579
Mohammad Khaja Nazeeruddin, Jaejung Ko, and Michael Gratzel
Index 599
See More
Tomás Torres is Full Professor of Organic Chemistry at the Universidad Autónoma de Madrid and Associated Senior Scientist at IMDEA Nanoscience in Madrid. He has published 370 papers and reviews and holds forty patents.
Giovanni Bottari is Associate Professor of Organic Chemistry at the Universidad Autónoma de Madrid and Associated Scientist at IMDEA Nanoscience in Madrid. He has published thirty-six papers and reviews and two book chapters.
See More