Effective Project Management: Traditional, Agile, Extreme, 6th Edition
ISBN: 978-1-118-01619-0
816 pages
October 2011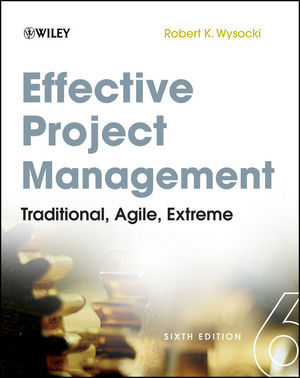 Expert guidance on ensuring project success—the latest edition!
Many projects fail to deliver on time and within budget, and often-poor project management is to blame. If you're a project manager, the newest edition of this expert and top-selling book will help you avoid the pitfalls and manage projects successfully. Covering the major project management techniques including Traditional (Linear and Incremental), Agile (Iterative and Adaptive), and Extreme, this book lays out a comprehensive overview of all of the best-of-breed project management approaches and tools today.
You'll learn how to use these approaches effectively to achieve better outcomes. Fresh topics in this new edition include critical chain project management, using the Requirements Management Lifecycle as a key driver, career and professional development for project managers, and more. This book is packed with step-by-step instruction and practical case studies, and a companion web site offers additional exercises and solutions.
Gives new or veteran project managers a comprehensive overview of the best-of-breed project management approaches and tools today
Shows readers, through step-by-step instruction and practical case studies, how to use these tools effectively
Updated new edition adds new material on career and professional development for project managers, critical chain project management, and more
If you're seeking to improve your professional project management skills, the latest edition of this popular, successful, and in-depth book is the place to start.
Visit http://wysockiepm.com/ for support materials and to connect with the author.
See More
Preface xxiii
Introduction xxv
Part I Defining and Using Project Management Process Groups 1
Chapter 1 What Is a Project? 5
Chapter 2 What Is Project Management? 23
Chapter 3 Understanding the Project Management Process Groups 63
Chapter 4 How to Scope a TPM Project 103
Chapter 5 How to Plan a TPM Project 149
Chapter 6 How to Launch a TPM Project 225
Chapter 7 How to Monitor and Control a TPM Project 279
Chapter 8 How to Close a TPM Project 311
Part II Establishing Project Management Life Cycles and Strategies 321
Chapter 9 Complexity and Uncertainty in the Project Management Landscape 323
Chapter 10 Traditional Project Management 339
Chapter 11 Agile Project Management 377
Chapter 12 Extreme Project Management 453
Part III Building an Effective Project Management Infrastructure 479
Chapter 13 Establishing and Maturing a Project Support Office 481
Chapter 14 Establishing and Managing a Project Portfolio Management Process 527
Chapter 15 Establishing and Managing a Continuous Process Improvement Program 583
Part IV Managing the Realities of Projects 625
Chapter 16 Prevention and Intervention Strategies for Distressed Projects 627
Chapter 17 Organizing Multiple Team Projects 657
Chapter 18 Managing the Professional Development of Project Teams 689
Appendix A Glossary of Acronyms 711
Appendix B What's on the Website? 717
Appendix C Bibliography 719
Index 729
See More
Robert K. Wysocki, PhD, has more than 40 years' experience as a project management consultant and trainer, information systems manager, systems and management consultant, author, training developer, and provider. The founder of Enterprise Information Insights, Inc. (EII), he has written 20 books on project management, business analysis, and information systems management.
See More
Learn more about