Time to Shine: Applications of Solar Energy Technology
ISBN: 978-1-118-01621-3
152 pages
May 2012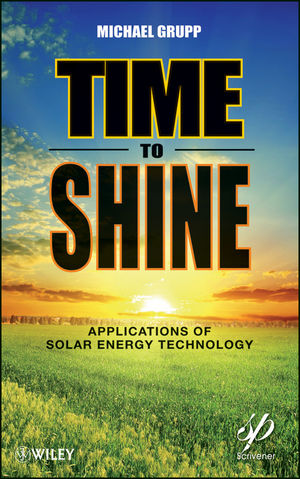 As solar energy becomes increasingly more important in all of our lives, it is more important to learn how it works and how it can be implemented. This book is the perfect primer for the engineer, scientist, and layperson alike, for learning about the practical applications of solar energy technology and how it is being used today to heat homes, light city streets, and provide power worldwide.
See More
Summary ix
About this book xi
Terminology xiii
Introduction: Solar Energy xv
The Incoming Solar Radiation 1
The Availability and Power Density Issue - Fossil vs. Solar Energy 3
The Need for Tracking 4
The Basic Solar Energy Heat Transfers 7
Heat Transfer - Experiment and Simulation 8
Solar Energy Heat Transfer Modes 18
Individual Transfers 18
Compound or Grouped Heat
Transfer (CHT) 28
Heat Capacity: Phase Change Materials (PCM), Heat Storage and "Thermal Mass" 31
Overall Heat Transfer 35
Solar Thermal Energy Product Requirements 43
Selected Solar Thermal Applications 47
Solar Water Heaters (SWH) 47
Solar Space Heating 52
Direct Gain 53
Windows and Glazings in Solar Space Heating 53
Active and Passive Solar Energy 56
Passive Solar Heating and Overheating 58
Purely Active Solar Heating 62
Large-Scale Glazed Solar Thermal Plants 63
Solar High Temperature Applications 70
Solar Tower Central Receiver Plants 70
Trough Plants 72
Dish Stirling 72
Solar Chimney Power Plants (CSP) 73
Solar Thermal Pumps 77
Divers Applications 77
Cookers 78
Domestic Solar Cookers 78
Institutional Solar Cookers 81
Autoclave Sterilizers 84
Direct UV Pasteurizers 87
Solar Driers 88
Solar Thermal Energy - The "Software" 92
Impacts 92
The Market 93
The Determination of Solar Food Mass and Cooking Time 95
Solar PV 101
PV - Basic Characteristics 101
Shading 102
The Temperature Effect 103
Electricity and Grids 103
PV Applications 105
Solar Air Planes 108
Solar Boats 109
Dedicated Power Supplies 112
"Plug" Power Supplies 112
PV Power Plants 113
Conclusions Beyond Solar 117
Case Studies 118
Solar Energy in a High-density Urban Environment 118
"Solar Casbah": Low-Cost Solar
Energy Vision 119
An Up-market, High-Tech Vision 123
Solar Thermal vs. Solar PV: The Battle of the Water Heaters 124
The Evolving Grid: 125
Remarks on Energy Planning 126
Solar for Existing Settlements 127
See More
Michael Grupp obtained his PhD in nuclear solid-state physics at the University of Heidelberg, Germany. In 1977, he set up an independent energy research unit called Synopsis in southern France, undertook innovative solar energy R&D, and soon broadened his scope to applications for less developed countries. He has proposed and coordinated projects in Europe, Africa, and India concerning technical, production, market, and acceptance aspects, as well as their methodological implications. Dr. Grupp has received a European Solar Prize in 2004 and serves on several scientific committees and editorial boards. Married with four children, Michael Grupp was diagnosed with Parkinson's disease in the early '90s.
See More
More in this series