Software
Wiley Registry 9th Edition / NIST 2011 Mass Spectral Library
ISBN: 978-1-118-01624-4
Software
November 2011
US $11,430.00

Add to Cart
This price is valid for United States. Change location to view local pricing and availability.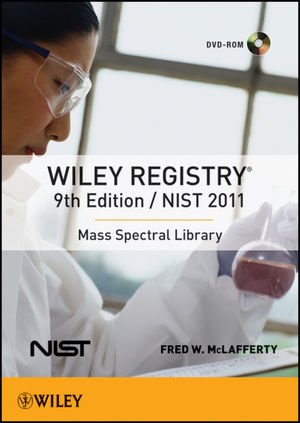 The Wiley Registry/NIST has consistently been the single most important tool for the identification of global unknowns available to the modern laboratory. Its breadth and scope ensures the highest likelihood of matching an unknown compound. Containing the complete de-duplicated Wiley Registry 9th Edition and NIST/EPA/NIH 2011 combined library and the complete NIST/EPA/NIH 2011 library and software installation, the Wiley Registry 9th Edition/NIST 2011 is the recommended foundation library for any analytical laboratory.
The Wiley Registry 9th Edition/NIST 2011 contains over 800,000 mass spectra collected by Dr. Fred McLafferty and the NIST Mass Spectrometry Data Center. Over 50 percent larger than the Wiley Registry 8th Edition/NIST 2008, this new edition contains over 680,000 unique compounds, making it the most comprehensive combined mass spectral library offered. Replicate spectra ensure a higher rate of matching, and 770,000 searchable chemical structures, 790,000 chemical formulas and exact masses, and over 3 million chemical names and synonyms ensure that the Wiley Registry 9th Edition/NIST 2011 can aid in classical EI, exact mass, and other methods of identification.