Software
NIST/EPA/NIH Mass Spectral Library 2011, (Update)
ISBN: 978-1-118-01668-8
September 2011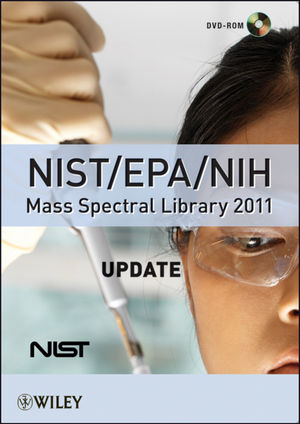 Comprehensive and Versatile
NIST/EPA/NIH 2011 is a trusted source of mass spectral data and software tools. Wiley's NIST 2011 contains the complete NIST software suite as well as the various NIST libraries in NIST and native manufacturer formats to enable access to advanced search, analysis, and reporting methods found in the original and legacy manufacturer software systems.
Why Source From Wiley?
Wiley's NIST/EPA/NIH 2011 comes with 1) Wiley technical support, 2) NIST technical support, 3) the most formats available on one disc, and 4) easy, well-documented installation instructions.
Does My Lab Qualify for an Upgrade?
If your lab has a license to any previous edition of the NIST library or Wiley/NIST library, your lab qualifies for the uprgade.
NIST/EPA/NIH 2011 edition contains:
EI-MS Spectral Library: over 240,000 spectra covering over 212,000 compounds

Ion Trap Spectral Library: over 9,900 spectra covering over 4,600 compounds

Collision-Cell Spectral Library: over 91,000 spectra covering over 3,700 compounds
New features and functionality included in the NIST MS Suite:
Exact mass search indexing for main and Wiley libraries
Substructure identification tool
High-mass accuracy interpretation of molecular ions and product ions
Improved memory performance for very large libraries
Improved GC and GC/MS method development
Display of spectra derivatives as replicates
MS/MS in EI for search against neutral losses
Substructure identification tool and improved structural searching
Improved import of centroid mzXML and mzData MS and MS/MS spectra
Verify Coverage
Labs can freely verify compound coverage at Compound Search.
Formats
Each NIST 2011 is bundled with the following native instrument formats:
Agilent Chemstation and MassHunter

Shimadzu GCMS Solution

Waters MassLynx

ACD/Labs MS Manager

NIST software (Leco, JEOL, Bruker, others)

Thermo Spectral ID

PerkinElmer TurboMass
See More
Learn more about