Textbook
Autodesk 3ds Max 2012 Essentials
ISBN: 978-1-118-01675-6
400 pages
June 2011, ©2011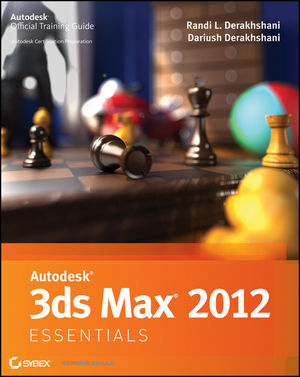 Get a jump-start on Autodesk 3ds Max 2012 essentials—with the Essentials!
The new Essentials books from Sybex are beautiful, task-based, full-color Autodesk Official Training Guides that help you get up to speed on Autodesk topics quickly and easily. Autodesk 3ds Max 2012 Essentials thoroughly covers the fundamentals of this popular 3D animation effects, and visualization software, teaching you what you need to become quickly productive.
By following the book's clear explanations, practical tutorials, and step-by-step exercises, you'll cover all the bases. Topics include modeling, animation, rendering, rigging, compositing, and much more. Whether you're an aspiring 3D designer or a professional brushing up on the basics, here is the essential grounding you need in 3ds Max 2012.
Covers Autodesk 3ds Max 2012 fundamentals, so you become quickly productive with the software
Uses straightforward explanations and real-world, hands-on exercises and tutorials to teach the software's core features and functions
Helps you develop the skills you'll need throughout an animation production pipeline, whether you're a beginner or a more experienced user brushing up on the basics
Uses a task-based approach and covers topics such as polygon modeling, materials and mapping, lighting, using mental ray, HDRI images, and more
This book is an Autodesk Official Training Guide
If you want to get quickly up to speed on 3ds Max, Autodesk 3ds Max 2012 Essentials is the place to start.
See More
Introduction xv
Chapter 1 The 3ds Max Interface 1
Chapter 2 Your First 3ds Max Project 19
Chapter 3 Modeling in 3ds Max: Part I 51
Chapter 4 Modeling in 3ds Max: Part I I 87
Chapter 5 Animating a Bouncing Ball 111
Chapter 6 Animating a Thrown Knife 129
Chapter 7 Character Poly Modeling: Part I 141
Chapter 8 Character Poly Modeling: Part I I 165
Chapter 9 Character Poly Modeling: Part I I I 185
Chapter 10 Introduction to Materials: Red Rocket 201
Chapter 11 Textures and UV Workf low: The Soldier 225
Chapter 12 Character Studio: Rigging 255
Chapter 13 Character Studio: Animating 275
Chapter 14 Introduction to Lighting: Red Rocket 289
Chapter 15 3ds Max Rendering 311
Chapter 16 mental ray and HDRI 341
Index 371
See More
Randi L. Derakhshani
teaches 3D animation at The Art Institute of California and has worked as a digital artist and technical director for games and movie projects with Gizmo Games, RJB Enterprises, and Sony.
Dariush Derakhshani is an award-winning visual effects supervisor, author, and educator. He has worked on movies such as The Fantastic Four and Pan's Labyrinth, the South Park TV series, and numerous commercials and music videos. He teaches 3D animation and is the author of all of Sybex's Introducing Maya books. Dariush and Randi are coauthors of all of Sybex's Introducing 3ds Max books.
See More
Instructors Resources
Contact your Wiley Representative
Find Your Rep

See More
See Less
Learn more about