Beginning Android Application Development
ISBN: 978-1-118-01711-1
448 pages
April 2011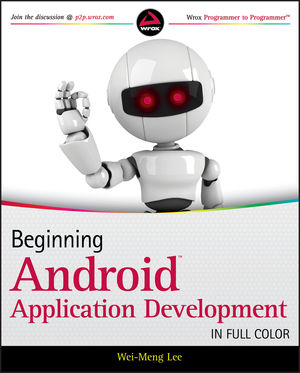 Create must-have applications for the latest Android OS
The Android OS is a popular and flexible platform for many of today's most in-demand mobile devices. This full-color guide offers you a hands-on introduction to creating Android applications for the latest mobile devices. Veteran author Wei Meng Lee accompanies each lesson with real-world examples to drive home the content he covers. Beginning with an overview of core Android features and tools, he moves at a steady pace while teaching everything you need to know to successfully develop your own Android applications.
Explains what an activity is and reviews its lifecycle
Zeroes in on customizing activities by applying styles and themes
Looks at the components of a screen, including LinearLayout, AbsoluteLayout, and RelativeLayout, among others
Details ways to adapt to different screen sizes and adjust display orientation
Reviews the variety of views such as TextView, ProgressBar, TimePicker, and more
Beginning Android Application Development pares down the most essential steps you need to know so you can start creating Android applications today.
See More
INTRODUCTION xv
GETTING STARTED W CHAPTER 1: ITH ANDROID PROGRAMMING 1
CHAPTER 2: ACTIVITIES AND INTENTS 27
CHAPTER 3: GETTING TO KNOW THE ANDROID USER INTERFACE 81
CHAPTER 4: DESIGNING YOUR USER INTERFACE USING VIEWS 125
CHAPTER 5: DISPLAYING PICTURES AND MENUS WITH VIEWS 169
CHAPTER 6: DATA PERSISTENCE 203
CHAPTER 7: CONTENT PROVIDERS 237
CHAPTER 8: MESSAGING AND NETWORKING 263
CHAPTER 9: LOCATION-BASED SERVICES 301
CHAPTER 10: DEVELOPING ANDROID SERVICES 331
CHAPTER 11: PUBLISHING ANDROID APPLICATIONS 359
APPENDIX A: USING ECLIPSE FOR ANDROID DEVELOPMENT 381
APPENDIX B: USING THE ANDROID EMULATOR 393
APPENDIX C: ANSWERS TO EXERCISES 411
INDEX 415
See More
Wei-Meng Lee is a technologist and founder of Developer Learning Solutions (www.learn2develop.net). He writes extensively for online publications and magazines on topics ranging from .NET to Mac OS X. In addition, he is the author of Beginning iOS 4 Application Development, as well as many other technology books and articles.
See More
Do you think you've discovered an error in this book? Please check the list of errata below to see if we've already addressed the error. If not, please submit the error via our Errata Form. We will attempt to verify your error; if you're right, we will post a correction below.
Chapter
Page
Details
Date
Print Run
2
35-36
Error in Code
showDialog(1)

should be:
showDialog(0)
10/4/11
50
Error in Code
"Using the same project created in the previous section, add the following statements in bold to the main.xml file:"

This should be "activity2.xml" instead "main.xml"
5/15/2011
54
Error in Code
It says:
startActivityForResult(i, 1);

It should say:
startActivityForResult(i, request_Code);

The code will still work, since request_Code = 1, but it is better to use the constant.
7/12/2011
119
Error in Code
this line must be bolded:
import android.view.View;
7/27/11
132
Typo
The text just below Figure 4-5 reads as follows:
"The ToogleButton displays..."

it should be:
"The ToggleButton displays..."
6/20/11
144
Error in Text
Title for the Try it Out currently reads "Using the TimePicker Wiew"

Should read "Using the TimePicker View"
7/13/2011
151, 153
Error in Code
In the code in bold towards the bottom it says:
"Date selected:" + datePicker.getMonth() + 1 + ..... etc.

It should be:
"Date selected:" + (datePicker.getMonth() + 1) + .... etc

This will ensure that the "1" is added; otherwise the output looks like this (assuming the month of June (5) is picked: 51/1/11

With the fix above it will show: 6/1/11

Also on pg 153 in the "how it works" section.
7/6/11
159
Errors in Code
This line: setContentView(R.layout.main);

commented out, like this:
// setContentView(R.layout.main);

AND



Instead of using constants 0, 1 and 2, like this:

lstView.setChoiceMode(2); //CHOICE_MODE_MULTIPLE

You could also use:

lstView.setChoiceMode(ListView.CHOICE_MODE_MULTIPLE);



AND

This line:



setListAdapter(new ArrayAdapter(this,
                android.R.layout.simple_list_item_checked, presidents));


Should be bold.
7/22/11
186
Missing Step
Add step between Step 1 and 2: Add the following <Button> element to the main.xml file:



<?xml version="1.0" encoding="utf-8"?>
<LinearLayout xmlns:android="http://schemas.android.com/apk/res/android"
    android:orientation="vertical"
    android:layout_width="fill_parent"
    android:layout_height="fill_parent"
    >

<Button android:id="@+id/btn1"
        android:layout_width="fill_parent" 
        android:layout_height="wrap_content"
        android:text="Tap and hold this for more options..." />

</LinearLayout>


7/28/11
5
187
Error in Menu Definition
The "Menus" application has the following menus defined:
menu.add(0,3,3, "Item 5");
menu.add(0,3,3, "Item 6");
menu.add(0,3,3, "Item 7");

This causes menus 5-7 to display
"You clicked on Item 4"

Should instead be:
menu.add(0,4,4, "Item 5");
menu.add(0,5,5, "Item 6");
menu.add(0,6,6, "Item 7");
6/14/11
195
Missing Step
Insert the line:
<uses-permission android:name="android.permission.INTERNET" />
in the manifest tag to make webview work.
9/12/11
270
Error in Code
Inside the Note box, SMS_SEND should read SEND_SMS.
7/13/2011
273
Error in Text
Try It Out title should be "Updating an Activity When a SMS is Received"
7/13/2011
278
Error in Code
"onDestroy()" method is invoked and the super.onPause() method is called before exiting

"super.onPause()" method should be "super.onDestroy()" method
12/6/2011
279
Error in Text
Step 3 of the Try It Out:
main.xml

should be:
AndroidManifest.xml
6/9/11
286
Error in Text
Try It Out title should be "Downloading Images"
7/13/2011
287,297
Error in Code
On page 287, the URL for the image: "http://www.streetcar.org/mim/cable/images/cable-01.jpg" is no longer valid.

Replace URL with: "http://www.mayoff.com/5-01cablecarDCP01934.jpg"

The same applies to the URL on page 297.
5/16/2011
302
Error in Figure
The figure should select Google APIs.
7/13/2011
9
306
Error in Code
Step 2, main.xml should be AndroidManifest.xml.
5/16/2011
9
322
Error in Code
You need to add in the following permissions in order for your application to receive location coordinates:

&ltuses-permission android:name="android.permission.ACCESS_COARSE_LOC ATION">
&ltuses-permission android:name="android.permission.ACCESS_FINE_LOCAT ION">
5/16/2011
338
Error in Code
This line must be bolded:
import android.util.Log;
7/31/11
See More
Instructors Resources
Request a print evaluation copy
Contact us

See More
See Less