Engaging the Online Learner: Activities and Resources for Creative Instruction, Updated Edition
ISBN: 978-1-118-01819-4
160 pages
May 2011, Jossey-Bass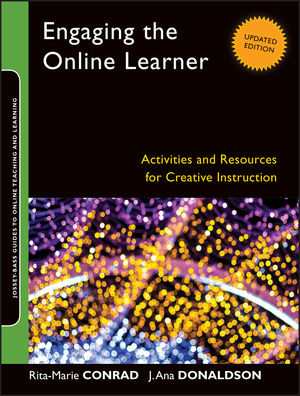 This is a revision of the first title in Jossey-Bass' Online Teaching & Learning series. This series helps higher education professionals improve the practice of online teaching and learning by providing concise, practical resources focused on particular areas or issues they might confront in this new learning environment.
This revision includes updated activities and resources for instructors teaching online. Based on changes in technology and best practices learned from the field the revision provides new information for even seasoned online instructors.
See More
Preface.
Overview of the Contents.
Updates.
Acknowledgments.
An Invitation.
The Authors.
ONE Learning in an Online Environment.
Engaged Learning in the Online Environment.
Guiding Learners to Engage Online.
Appropriate Activities for Each Phase.
Summary.
PART ONE Constructing Activities to Engage Online Learners.
TWO Designing Online Engagement.
Adapting Classroom-Based Activities.
Meeting the Needs of Online Learners.
Choosing an Effective Communication Tool.
Summary.
THREE Measuring Online Engaged Learning.
Analyzing the Quality of Critical Thinking.
Discussion Analysis Tools.
Rubrics.
Team Assessments.
Reflective Self-Assessments.
Summary.
FOUR Learning to Use Online Tools.
Building Students' Skills in Using the Necessary Tools.
PART TWO Activities to Engage Online Learners.
FIVE Online Icebreakers.
Characteristics of an Effective Icebreaker.
SIX Peer Partnership and Team Activities.
Moving Dyads to Teams.
SEVEN Reflective Activities.
Characteristics of an Effective Reflective Activity.
EIGHT Authentic Activities.
Characteristics of an Effective Authentic Activity.
NINE Games and Simulations.
Characteristics of an Effective Game or Simulation.
TEN Learner-Led Activities.
Activities Led by Individuals Versus Teams.
Conveying Outcomes.
Choosing the Type of Activity.
Adequate Orientation and Planning Time.
What Do Learners Think About Learner-Led Activities?
Examples of Learner-Led Activities.
References.
Index.
See More
Rita-Marie Conrad has been teaching, designing, and consulting on online courses for nearly two decades. She consults on the design, implementation, and evaluation of online courses, and provides training to community college and university faculty. A frequent presenter on the topic of online instruction, she is also coauthor of The Online Teaching Survival Guide published by Jossey-Bass.
J. Ana Donaldson retired as an associate professor of instructional technology from the University of Northern Iowa. She continues her love of teaching online by working part-time as a contributing faculty member for Walden University. She also provides instructional design and program evaluation consulting and has presented workshops on using technology to apply the principles of engaged learning.
See More
Learn more about