E-book
The Little Book of Currency Trading: How to Make Big Profits in the World of Forex
ISBN: 978-1-118-01841-5
224 pages
December 2010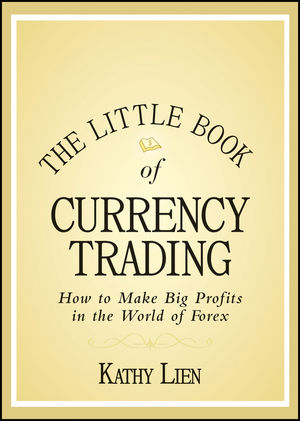 An accessible guide to trading the fast-moving foreign exchange market
The foreign exchange market, or forex, was once dominated by global banks, hedge funds, and multinational corporations, but that has all changed with Internet technology and the advent of online forex brokers. Now, hundreds of thousands of traders and investors around the world can participate in this profitable field.
Written by forex expert Kathy Lien, The Little Book of Currency Trading will show you how to effectively invest and trade in today's biggest market. Page by page, she describes the multitude of opportunities possible in the forex market, from short-term price swings to long-term trends, and details practical products that can help you achieve success, such as currency-based ETFs.
Explains the forces that drive currencies and provides strategies to profit from them
Reveals how you can use various currencies to reduce risk and take advantage of global trends
Examines financial vehicles that can help you make money without having to monitor the market every day
The Little Book of Currency Trading opens the world of currency trading and investing to anyone interested in entering this dynamic arena.
See More
Introduction.
Chapter One When Lightning Strikes.
Chapter Two Rubles and Bahts and Euros—Oh, My!
Chapter Three The A to Zs of Forex.
Chapter Four Step Right Up.
Chapter Five Movers and Shakers.
Chapter Six The Investor versus the Trader.
Chapter Seven What All Winners Do.
Chapter Eight So You're an Investor?
Chapter Nine So You're a Trader?
Chapter Ten Risky Business.
Chapter Eleven The Top 10 Mistakes.
Chapter Twelve Greetings from Nigeria, Please Help!
Chapter Thirteen Getting Down to Business.
Chapter Fourteen Crash, Burn, and Learn.
Chapter Fifteen Start Smart.
Author's Disclaimer.
See More
KATHY LIEN is the Director of Currency Research for Global Forex Trading (GFT), a Division of Global Futures & Forex, Ltd. She also runs an FX signal service, BKForex Advisor, with Boris Schlossberg. Prior to joining GFT, Lien was the chief strategist of DailyFX.com and an associate at JPMorgan Chase, where she worked in cross-markets and foreign exchange trading. As an internationally renowned currency strategist, Lien specializes in combining fundamental and technical analysis. With more than ten years of currency trading experience, Lien is a frequent guest host of CNBC Asia and Sky Business News and has appeared on CNBC (U.S. and Europe), Bloomberg, Fox Business, and Reuters. She is a regulator contributor to Active Trader, Futures, and SFO magazines and is quoted by financial publications around the world. Lien is also the author of the two editions of Day Trading and Swing Trading the Currency Market as well as Millionaire Traders, which are published by Wiley.
See More