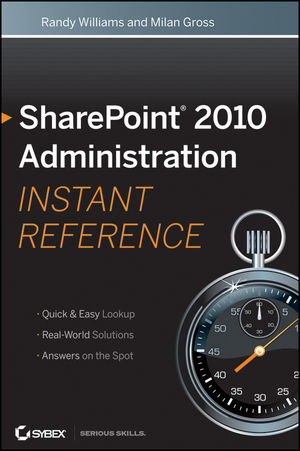 SharePoint 2010 Administration Instant Reference
Buy this book from:
ISBN: 978-1-118-02234-4
552 pages
June 2011
Fast, accurate answers on SharePoint 2010 administration—in an instant
If you're a SharePoint administrator and are looking for fast, accurate, easy-to-understand answers and solutions, then this reference is for you. Thumb tabs, secondary and tertiary tables of contents, and special heading treatments ensure quick and easy ways to find practical solutions on the spot. In addition, quick-reference tables, lists, and step-by-step instruction provide even more helpful information on the day-to-day administration of Microsoft's newest collaboration solution.
Features invaluable answers and solutions on a variety of SharePoint 2010 issues
Includes quick-reference tables, lists, and step-by-step instructions on handling different SharePoint 2010 situations
Serves as the perfect companion to any book on SharePoint
Designed for busy IT professionals, this instant reference is the perfect go-to resource.
More Information About this Book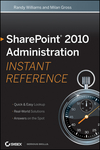 SharePoint 2010 Administration Instant Reference
Buy this book from: