SharePoint 2010 Administration Instant Reference
ISBN: 978-1-118-02234-4
552 pages
June 2011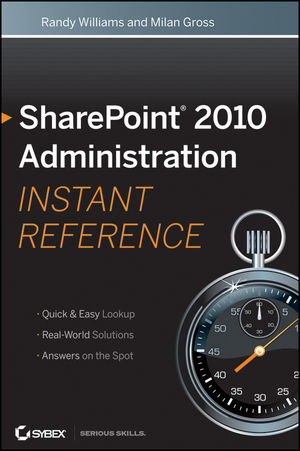 Fast, accurate answers on SharePoint 2010 administration—in an instant
If you're a SharePoint administrator and are looking for fast, accurate, easy-to-understand answers and solutions, then this reference is for you. Thumb tabs, secondary and tertiary tables of contents, and special heading treatments ensure quick and easy ways to find practical solutions on the spot. In addition, quick-reference tables, lists, and step-by-step instruction provide even more helpful information on the day-to-day administration of Microsoft's newest collaboration solution.
Features invaluable answers and solutions on a variety of SharePoint 2010 issues
Includes quick-reference tables, lists, and step-by-step instructions on handling different SharePoint 2010 situations
Serves as the perfect companion to any book on SharePoint
Designed for busy IT professionals, this instant reference is the perfect go-to resource.
See More
Introduction.
Part I: Deploying SharePoint 2010.
Chapter 1: Installing SharePoint 2010.
Chapter 2: Creating and Managing Web Applications.
Chapter 3: Creating and Managing Site Collections.
Chapter 4: Creating Service Applications.
Chapter 5: Scaling and High Availability.
Part II: Configuring SharePoint 2010.
Chapter 6: Configuring System Settings.
Chapter 7: Configuring the User Profiles and My Sites Services.
Chapter 8: Configuring the Search Service.
Chapter 9: Configuring Search Scopes and Search Results.
Chapter 10: Configuring Document Management.
Chapter 11: Configuring the Managed Metadata Service.
Chapter 12: Configuring Records Management.
Chapter 13: Configuring Web Content Management and Publishing.
Part III: Managing SharePoint 2010.
Chapter 14: Managing Security.
Chapter 15: Managing Auditing, Monitoring, and Analytics.
Chapter 16: Managing Backup and Restore.
Index.
See More
Randy Williams
, SharePoint MVP, is a senior SharePoint architect and trainer. Based in San Diego, he travels the globe speaking, training, and evangelizing SharePoint. He has over 20 years of IT experience and, for the past 14 years, has been architecting and developing Microsoft-based solutions.
Milan Gross heads up the Asia Pacific region of Synergy Corporate Technologies, a consulting and training company specializing in SharePoint technologies. He has been architecting and developing solutions on the SharePoint platform since 2001 and has over 15 years of experience as an IT consultant.
See More
Learn more about