Mac OS X Lion Simplified
ISBN: 978-1-118-02240-5
256 pages
August 2011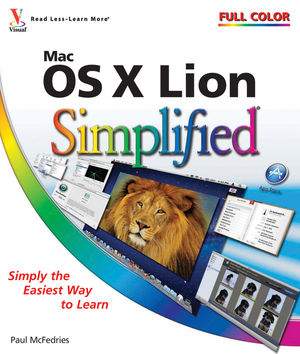 Simply the easiest way for visual learners to get up and running with Mac OS X Lion
OS X Lion is the latest version of the Mac desktop operating system, offering cool new features for more than 25 million Mac OS X users. For visual learners who are switching to a Mac, upgrading from an earlier OS, or just getting started with computers, Mac OS X Lion Simplified provides all the necessary information in the simplest way possible. Task-based spreads provide step-by-step instructions with full color illustrations that show exactly how to accomplish a wide variety of tasks with Mac OS X Lion.
Looks at Mac OS X Lion, the latest Mac desktop operating system that features support for the new multi-touch trackpad and other enhancements
Offers visual learners the easiest way to get going with Mac OS X Lion, using step-by-step instructions illustrated with full-color screen shots that show exactly what each step looks like
Explains how to use the new trackpad, customize the desktop, work with files and folders, and use the latest versions of iPhoto and iMovie
For those who learn best when they see exactly how something is done, Mac OS X Lion Simplified is the quickest and easiest way to get up and running on Mac OS X Lion.
See More
1 Learning Basic Mac OS X Program Tasks.
Explore the Mac OS X Screen 4
Tour the Dock 5
Start an Application 6
Start an Application Using Launchpad 8
Switch Between Applications 10
View Running Applications with Mission Control 11
Tour an Application Window 12
Run an Application Full Screen 13
Select a Command from a Pull-Down Menu 14
Select a Command Using a Toolbar 15
Select Options with Dialog Controls 16
2 Learning Basic Mac OS X Document Tasks.
Save a Document 20
Open a Document 21
Print a Document 22
Edit Document Text 24
Copy a File 28
Move a File 29
Rename a File 30
Delete a File 31
3 Surfing the World Wide Web.
Open and Close Safari 34
Select a Link 36
Enter a Web Page Address 37
Open a Web Page in a Tab 38
Navigate Web Pages 40
Navigate with the History List 42
Change Your Home Page 44
Bookmark Web Pages 46
Search for Sites 48
4 Communicating via E-mail.
Open and Close Mail 52
Add an E-mail Account 54
Send an E-mail Message 56
Add a File Attachment 58
Add a Signature 60
Receive and Read E-mail Messages 62
Reply to a Message 64
Forward a Message 66
5 Tracking Your Contacts and Events.
Open and Close Address Book 70
Add a New Contact 72
Edit a Contact 74
Create a Contact Group 76
Open and Close iCal 78
Navigate the Calendar 80
Create an Event 82
Create a Repeating Event 84
6 Playing and Organizing Music.
Open and Close iTunes 88
Understanding the iTunes Library 90
Navigate the iTunes Window 91
Play a Song 92
Play a Music CD 94
Import Tracks from a Music CD 98
Create a Playlist 100
Burn Music Files to a CD 102
Purchase Music from the iTunes Store 104
7 Synchronizing an iPod, iPhone, or iPad.
Connect an iPod, iPhone, or iPad 108
Synchronize Music 110
Synchronize Photos to Your Device 112
Synchronize Photos from Your Device 114
Synchronize Movies and TV Shows 116
Synchronize Contacts, Calendars, and Mail 118
Synchronize Apps 120
8 Viewing and Editing Photos.
View a Preview of a Photo 124
View a Slide Show of Your Photos 126
Open and Close iPhoto 128
Import Photos from a Digital Camera 130
View Your Photos 132
Create an Album 134
Crop a Photo 136
Rotate a Photo 138
Straighten a Photo 140
Remove Red Eye from a Photo 142
Add Names to Faces in Your Photos 144
E-mail a Photo 146
Take Your Picture 148
9 Playing and Creating Digital Video.
Play a DVD Using DVD Player 152
Play Digital Video with QuickTime Player 154
Create a New Movie Project 156
Import a Video File 158
Add Video Clips to Your Project 160
Trim a Clip 162
Add a Transition Between Clips 164
Add a Photo 166
Add a Music Track 168
Record a Voiceover 170
Add Titles and Credits 172
Play the Movie 174
10 Customizing Mac OS X to Suit Your Style.
Display System Preferences 178
Change the Desktop Background 180
Activate the Screen Saver 182
Set Your Mac's Sleep Options 184
Change the Display Resolution 186
Create an App Folder in Launchpad 188
Add a UserAccount 190
Customize the Dock 192
Add an Icon to the Dock 194
Hide the Dock 196
Install a Program Using the App Store 198
11 Performing Mac OS X Maintenance.
Empty the Trash 202
Organize Your Desktop 203
Check Hard Disk Free Space 204
Uninstall Unused Applications 206
Set a Software Update Schedule 208
Configure Time Machine Backups 210
Restore Files Using Time Machine 212
12 Troubleshooting Mac OS X Problems.
Restart Your Mac 216
Unlock System Preferences 218
Force a Stuck Application to Close 220
Repair a Corrupt Preferences File 222
Access the Mac OS X Recovery Tools 224
Repair Disk Permissions 226
Repair a Disk 228
See More
Paul McFedries is a technical writer who has been authoring computer books since 1991. He has more than 70 books to his credit, which together have sold more than four million copies worldwide. These books include the Wiley titles Teach Yourself VISUALLY Macs, Second Edition; MacBook Air Portable Genius, Second Edition; iPhone 4 Portable Genius; and Macs Portable Genius, Second Edition. Paul also runs Word Spy, a website dedicated to tracking new words and phrases (see www.wordspy.com). Please visit Paul's personal website at www.mcfedries.com, or follow him on twitter at www.twitter.com/paulmcf and www.twitter.com/wordspy.
See More