Teach Yourself VISUALLY Mac OS X Lion
ISBN: 978-1-118-02241-2
352 pages
August 2011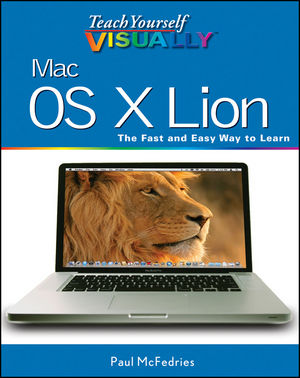 Visual learners will quickly see how to take full advantage of Mac OS X Lion
The latest Mac desktop operating system adds iPad functionality, a desktop App Store, and many more cool features. This guide combines step-by-step instructions with full-color illustrations to show visual learners how to take advantage of everything Lion has to offer. Plenty of screen shots show you just what to expect at every step, so you can get going quickly whether you're new to the Mac or upgrading from an earlier OS.
Reviews how Lion incorporates all-new features including a multi-touch trackpad, Mission Control, App Store functionality for the desktop, and more
Aims specifically at those who learn best when they see how things are done, with step-by-step instructions and full-color illustrations showing exactly what each step looks like
Shows both new Mac users and those upgrading from an earlier Mac OS how to get going with OS X Lion, use all the iLife digital media applications, customize the desktop, and make the most of the latest features
If you learn more quickly when someone shows you how it's done, this is the perfect Mac OS X Lion guide for you.
See More
Chapter 1 Reviewing What You Can Do with Mac OS X.
Create Documents.
Play and Record Music.
View and Organize Your Photos.
Play and Make a Movie or DVD.
Take Advantage of the Web.
Communicate with Others.
Organize Your Contacts and Appointments.
Chapter 2 Learning Basic Mac OS X Program Tasks.
Explore the Mac OS X Screen.
Tour the Dock.
Start an Application.
Start an Application Using Launchpad.
Switch Between Applications.
View Running Applications with Mission Control.
Tour an Application Window.
Run an Application Full Screen.
Select a Command from a Pull-Down Menu.
Select a Command Using a Toolbar.
Select Options with Dialog Controls.
Chapter 3 Learning Basic Mac OS X Document Tasks.
Save a Document.
Open a Document.
Print a Document.
Edit Document Text.
Copy a File.
Move a File.
Rename a File.
Delete a File.
Chapter 4 Surfing the World Wide Web.
Open and Close Safari.
Select a Link.
Enter a Web Page Address.
Open a Web Page in a Tab.
Navigate Web Pages.
Navigate with the History List.
Change Your Home Page.
Bookmark Web Pages.
Search for Sites.
Download a File.
Chapter 5 Communicating via E-mail and FaceTime.
Open and Close Mail.
Add an E-mail Account.
Send an E-mail Message.
Add a File Attachment.
Add a Signature.
Receive and Read E-mail Messages.
Reply to a Message.
Forward a Message.
Sign in to FaceTime.
Connect Through FaceTime.
Chapter 6 Tracking Your Contacts and Events.
Open and Close Address Book.
Add a New Contact.
Edit a Contact.
Create a Contact Group.
Open and Close iCal.
Navigate the Calendar.
Create an Event.
Create a Repeating Event.
Create a To-Do Item.
Chapter 7 Playing and Organizing Music.
Open and Close iTunes.
Understanding the iTunes Library.
Navigate the iTunes Window.
Play a Song.
Play a Music CD.
Import Tracks from a Music CD.
Create a Playlist.
Burn Music Files to a CD.
Edit Song Information.
Purchase Music from the iTunes Store.
Listen to an Internet Radio Station.
Subscribe to a Podcast.
Chapter 8 Synchronizing an iPod, iPhone, or iPad.
Connect an iPod, iPhone, or iPad.
Synchronize Music.
Synchronize Photos to Your Device.
Synchronize Photos from Your Device.
Synchronize Movies and TV Shows.
Synchronize Contacts, Calendars, and Mail.
Synchronize Podcasts.
Synchronize Games.
Synchronize Apps.
Chapter 9 Viewing and Editing Photos.
View a Preview of a Photo.
View a Slide Show of Your Photos.
Open and Close iPhoto.
Import Photos from a Digital Camera.
View Your Photos.
Create an Album.
Crop a Photo.
Rotate a Photo.
Straighten a Photo.
Remove Red Eye from a Photo.
Add Names to Faces in Your Photos.
Map Your Photos.
E-mail a Photo.
Take Your Picture.
Create a DVD of Your Photos.
Chapter 10 Playing and Creating Digital Video.
Play a DVD Using DVD Player.
Play Digital Video with QuickTime Player.
Create a New Movie Project.
Import a Video File.
Add Video Clips to Your Project.
Trim a Clip.
Add a Transition Between Clips.
Add a Photo.
Add a Music Track.
Record a Voiceover.
Add Titles and Credits.
Play the Movie.
Create a DVD of Your Movie.
Chapter 11 Customizing Mac OS X to Suit Your Style.
Display System Preferences.
Change the Desktop Background.
Activate the Screen Saver.
Set Your Mac's Sleep Options.
Change the Display Resolution.
Create an App Folder in Launchpad.
Add a User Account.
Customize the Dock.
Add an Icon to the Dock.
Hide the Dock.
Add a Widget to the Dashboard.
Install a Program Using the App Store.
See More
Buy Both and Save 25%!
Teach Yourself VISUALLY Mac OS X Lion (US $29.99)
-and- Teach Yourself VISUALLY iPhone 4S (US $24.99)
Total List Price: US $54.98
Discounted Price: US $41.23 (Save: US $13.75)
Cannot be combined with any other offers. Learn more.