E-book
Business Exit Planning: Options, Value Enhancement, and Transaction Management for Business Owners
ISBN: 978-1-118-02297-9
208 pages
February 2011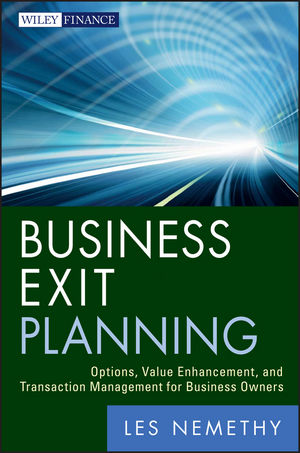 The most viable exit strategies for owners of mid-sized companies
For many business owners, cashing out of a business is a lifelong dream. For some, exiting a business can be a nightmare. Business Exit Planning: Options, Value Enhancement, and Transaction Management for Business Owners provides a comprehensive view of what every business owner needs to know to plan and execute a business exit. The book

Includes 30 relevant mini-case studies on business exit planning and transaction management, as well as a glossary of frequently used technical terms
Details options for those owners who no longer want to be active in the business, as well as for those who want to remain invested
Covers a wide range of topics related to business exit planning and transaction management, including IPO, MBO, refinancing, ESOPs, building an exit team, business plan and valuation, due diligence, and estate planning
Regardless of whether a business owner seeks an immediate exit or a staged exit over time, Business Exit Planning provides a comprehensive strategy and road map to define exit-related objectives.
See More
Preface xi
Acknowledgments xv
Disclaimer xvii
Foreword xix
Introduction: The Challenge of Exiting Your Business 1
Three Overarching Themes 6
A Few Words of Advice 9
PART I Business Exit Planning 11
CHAPTER 1 An introduction to Business Exit Planning 13
Ways to Exit Your Business 14
What is Business Exit Planning? 15
Evidence on Why Business Exit Planning is Necessary 16
Understand Your Motives 17
The Special Case of Retirement 20
CHAPTER 2 Begin with the Endgame in Sight 23
Develop a Game Plan 24
Value Systems and Visualizing the Endgame 25
CHAPTER 3 Exit Options 29
Intergenerational Transfer 29
Initial Public Offering 32
Merger 35
Hiring Professional Management 36
Management Buyout 37
Refi nancing 38
Employee Stock Ownership Plan 39
Liquidation 39
Choosing the Right Exit Option 39
CHAPTER 4 Building Your Team to Assist Your Exit 43
Reasons for Building a Team 43
Composition and Role of Your Team 45
Selecting Advisors: An Overview 53
Your Advisors' Ethical Standards 55
CHAPTER 5 Building a Business with Sustainable Value 57
Look at Your Business from an Investor's Perspective 58
Clarifying and Adjusting Corporate Strategy 59
Corporate Governance, Systems, and the One-Man Show 61
Pre-Transaction Restructuring 68
Identify and Manage Risks 72
Operational Improvements to the Business 78
Non-Arm's-Length Situations 82
CHAPTER 6 Business Plan and Valuation 85
Reasons for Making a Business Plan 85
Should You Perform a Valuation of Your Business? 87
Recasting Financial Statements 88
Building a Business Plan 90
Introductory Comments on Valuation 91
Types of Valuation 93
Adjustments to Valuations 96
CHAPTER 7 Tax Planning, Estate Planning, and Insurance 101
Tax Planning 101
Estate Planning 102
Use of Insurance in Your Exit Strategy 105
CHAPTER 8 Finalizing Your Exit Strategy 107
What Type of Investors Should Be Targeted? 108
Should There Be a Listing or Asking Price? 110
Should There Be a Competitive Process? 110
Why Use a Competitive Process in Selling a Business? 112
What Are the Possible Drawbacks of a Competitive Process? 114
Timing Your Exit 115
Communicating with Other Shareholders 116
Your Contingency Plan 117
Business Exit Planning Report 117
PART II Managing the Transaction 119
CHAPTER 9 The Transaction Process 121
Overview of a Competitive Process 122
Confi dentiality through a Transaction Process 124
Involving Company Staff in the Transaction Process and Communications with Investors 129
Marketing Your Opportunity: From Long List to Short List 131
The Information Memorandum 132
Nonbinding Offers 135
Due Diligence 135
Binding Offers 141
Exclusivity 141
Transaction Structuring 142
Head of Agreement 145
Sale and Purchase Agreement 146
Closing the Transaction 151
Noncompetitive Processes 151
CHAPTER 10 Negotiating a Transaction 153
Get to Know Your Negotiating Partner 154
Let Your Negotiating Partner Make the First Offer 155
Concede in Small Increments 155
After Asking a Crucial Question, Hold Your Tongue 155
Every Term of the Deal Also Depends on Every Other Term 156
Be Prepared to Walk Away from the Deal 157
Know Your Best Alternative 157
CHAPTER 11 Cross-border Transactions 159
Why Don't More People Market Their Companies Internationally? 160
The Challenges of Cross Cultural Negotiations 162
Conclusion: The Only Question with Wealth Is, What Do You Do with It? 165
Revisiting the Three Overarching Themes 165
You Have Raised Your Cash. What Next? 167
The Macroeconomic Effects of Succession Failure 170
Notes 173
Glossary 175
References 179
About the Author 181
Index 183
See More
LES NEMETHY is the founder and CEO of Euro-Phoenix Financial Advisors Ltd, a leading corporate finance house in Central Europe and emerging markets specializing in helping owners of mid-sized enterprises sell their companies.Over the past twenty-five years, he has been involved in the sale of hundreds of businesses in more than forty countries. He speaks and writes frequently on the topic and his syndicated column appears in more than ten publications around the world.
See More