Constitutional Law For Dummies
ISBN: 978-1-118-02378-5
384 pages
December 2011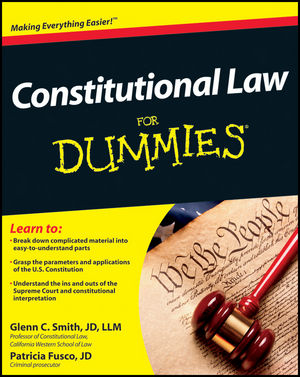 Discover the ins and outs of Constitutional law
Are you a student looking for trusted, plain-English guidance on the ins and outs of Constitutional law? Look no further!
Constitutional Law For Dummies provides a detailed study guide tracking to this commonly required law course. It breaks down complicated material and gives you a through outline of the parameters and applications of the U.S. Constitution in modern, easy-to-understand language.
Critical information on the Constitution's foundations, powers, and limitations
A modern analysis of the Constitution's amendments
Detailed information on the Supreme Court and federalism
Explaining outdated governmental jargon in current, up-to-date terms, Constitutional Law For Dummies is just what you need for quick learning and complete understanding. Students studying government will also find this to be a useful supplement to a variety of courses.
See More
Introduction 1
Part I: Studying Constitutional Law: The Foundations 9
Chapter 1: Understanding the Constitution 11
Chapter 2: Constitutional Law: A View from 30,000 Feet 33
Chapter 3: Mapping Out Key Concepts and Distinctions in Constitutional Law 49
Part II: Allocating Governmental Roles 59
Chapter 4: "Constituting" a New Federal Government 61
Chapter 5: Charting the Reach of National Government Powers 83
Chapter 6: Sorting Out National Powers: Inter-Branch Conflict and Cooperation 105
Chapter 7: The Constitution and Federalism 125
Part III: Protecting Property Rights and Avoiding Arbitrary Action141
Chapter 8: Avoiding Arbitrary Government Action: Due Process of Law 143
Chapter 9: Protecting Property: Land, Contracts, and Guns 161
Chapter 10: Preventing Government from Discriminating 177
Part IV: Rights to Self-Expression and Political Participation 199
Chapter 11: "Express Yourself!" Freedom of Speech 201
Chapter 12: The Constitution and Religion 225
Chapter 13: Getting Involved: Voting and Becoming or Supporting a Candidate 247
Part V: Understanding Privacy Rights 263
Chapter 14: Implied Privacy Rights — Fundamental and Otherwise 265
Chapter 15: Preventing Unreasonable Searches and Seizures 289
Chapter 16: The Right against Self-Incrimination 311
Part VI: The Part of Tens 331
Chapter 17: Ten Landmark Court Decisions about Governmental Structure 333
Chapter 18: Ten (Plus Three) Top Individual-Rights Cases 341
See More
Glenn C. Smith
is a professor of constitutional law at California Western School of Law in San Diego, CA, and creator of a nationally recognized seminar in which law students learn about the Supreme Court by role-playing as current justices and lawyers arguing before them.
Patricia Fusco is a government attorney and a criminal prosecutor working in the California Attorney General's Office, Special Crimes Unit. As a trial attorney, she deals with issues of constitutional law on a daily basis.
See More