Spanish Grammar For Dummies
ISBN: 978-1-118-02380-8
384 pages
May 2012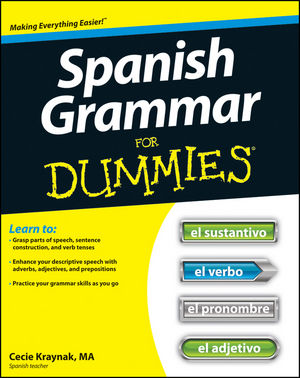 The tools you need to master Spanish grammar
Spanish Grammar For Dummies is a logical extension and complement to the successful language learning books, Spanish For Dummies and 500 Spanish Verb For Dummies. In plain English, it teaches you the grammatical rules of the Spanish language, including parts of speech, sentence construction, pronouns, adjectives, punctuation, stress and verb tenses, and moods. Throughout the book, you get plenty of practice opportunities to help you on your goal of mastering Spanish grammar.
Grasp the grammatical rules of Spanish
Benefit from plenty of practice opportunities throughout the book
Use the Spanish language confidently and correctly
Whether you're a student studying Spanish or a professional looking to get ahead of the pack by learning a second language, Spanish Grammar For Dummies is your hands-on guide to quickly and painlessly master the written aspect of this popular language.
See More
Introduction 1
Part I: Starting with the Basics 7
Chapter 1: Spanish Grammar in a Nutshell 9
Chapter 2: Sounding Out Spanish Words 19
Chapter 3: Naming Things with Nouns and Articles 29
Chapter 4: Describing Stuff with Adjectives 47
Chapter 5: Dealing with Numbers, Dates, and Time 67
Part II: Constructing Simple Sentences and Asking Questions 81
Chapter 6: Writing in the Present Tense 83
Chapter 7: Expressing a State of Being with Ser and Estar 107
Chapter 8: Talking about Action in Progress with the Present Progressive 121
Chapter 9: Replacing Nouns with Pronouns 133
Chapter 10: Expressing Likes and Dislikes 149
Chapter 11: Handling Questions and Exclamations 163
Part III: Beefing Up Your Sentences with More Description 179
Chapter 12: Describing Action with Adverbs 181
Chapter 13: Modifying Meaning with Prepositions 195
Chapter 14: Acting on Oneself with the Reflexive 213
Chapter 15: Using the Passive Voice 227
Chapter 16: It's All Relative: Making Comparisons 237
Chapter 17: Just Say "No": Negative Words and Expressions 249
Part IV: Talking about the Past or Future 261
Chapter 18: Looking Back with the Preterit 263
Chapter 19: Describing Ongoing Past Action with the Imperfect 281
Chapter 20: Projecting Forward with the Future Tense 295
Chapter 21: Forming Compound Tenses with the Helping Verb Haber 305
Part V: Expressing Conditions and Giving Commands 319
Chapter 22: Wondering "What If" with the Conditional Mood 321
Chapter 23: Taking Command with the Imperative Mood 329
Part VI: The Part of Tens 345
Chapter 24: Ten Common Spanish Grammar Mistakes (And How to Avoid Them) 347
Chapter 25: Ten Useful Spanish Idioms 353
Index 357
See More
Cecie Kraynak, MA, is a Spanish teacher, ESL coordinator, and author/editor of numerous Spanish books, including Spanish For Dummies. She has taught and tutored Spanish at the junior high school and college levels for more than 25 years.
See More