Anti-Inflammation Diet For Dummies
ISBN: 978-1-118-02381-5
384 pages
September 2011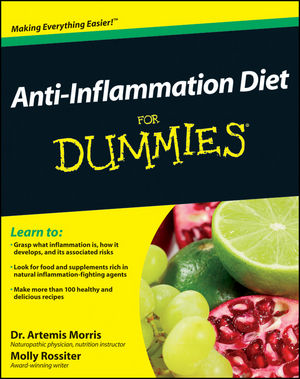 Trusted information and healthy, delicious recipes to fight inflammation
Low-grade inflammation is a condition inside the body, directly related to diet, that slowly wears on the body, facilitating chronic diseases like arthritis, diabetes, obesity, and heart disease. Also, the latest research has detected a correlation between inflammation and conditions like severe allergies, asthma, and even cancer.
Anti-Inflammation Diet For Dummies takes a preventative dietary approach to fighting inflammation by stimulating natural healing with anti-inflammatory foods and supplements. It reveals the causes of inflammation and provides a how-to prescription for eliminating it through diet changes, stress reduction, and healthy weight loss.
Defines what inflammation is, how it develops, and its associated risks
Outlines foods and supplements rich in natural inflammation-fighting agents
100 healthy and delicious recipes loaded with anti-inflammatory agents
Anti-Inflammation For Dummies is an invaluable resource to help you make smart diet choices by avoiding problematic foods that instigate the inflammatory process, and arms you with knowledge and delicious recipes to get on the road to a healthier you.
See More
Introduction 1
Part I: Taking the Mystery Out of Inflammation 7
Chapter 1: Inflammation, Food, and You 9
Chapter 2: Understanding How Food Can Be Your Body's Enemy19
Chapter 3: Determining Inflammation's Role in Chronic Diseases 31
Part II: Understanding Anti-Inflammatory Nutrition 49
Chapter 4: Filling Your Plate to Fight Inflammation 51
Chapter 5: Feeling the Love (or Hate) in Fats 63
Chapter 6: Conquering Carbohydrates 73
Chapter 7: Getting the Right Kinds of Protein 87
Chapter 8: Indulging in Sweets 95
Part III: Enjoying Recipes for Less Inflammation and Better Health 103
Chapter 9: Starting the Day Off Right: Unbeatable Breakfasts 105
Chapter 10: Something on the Side: Appetizers and Snacks 127
Chapter 11: Bring Out the Bowls: Soups 157
Chapter 12: Keeping It Light: Salads 173
Chapter 13: Making the Main Course: Basic Entrees 193
Chapter 14: Cranking Your Entrees Up a Notch 209
Chapter 15: Topping It Off: Desserts 229
Chapter 16: Making Home Cooking Less Inflammatory 247
Part IV: Living an Anti-Inflammatory Lifestyle 245
Chapter 17: Keeping Your Cool When Dining Out 263
Chapter 18: Looking at Prescription-Drug Alternatives and Supplements 275
Chapter 19: Making Strides Against Inflammation 289
Part V: The Part of Tens 301
Chapter 20: Ten Benefits of Stopping Inflammation in Its Tracks 303
Chapter 21: Ten Inflammation-Fighting Foods 309
Chapter 22: Ten Anti-Inflammatory Supplements and Herbs 317
Part VI: Appendixes 329
Appendix A: Inflammation Factor Ratings 331
Appendix B: Metric Conversion Guide 335
Index 339
See More
Dr. Artemis Morris
is a naturopathic physician, licensed acupuncturist, educator, and researcher in clinical nutrition. She teaches at The University of Bridgeport College of Naturopathic Medicine.
Molly Rossiter is an award-winning writer who covers new research in science and self-improvement.
See More