Shut Up, Stop Whining, and Get a Life: A Kick-Butt Approach to a Better Life, 2nd Edition, Revised and Updated
ISBN: 978-1-118-02451-5
Paperback
272 pages
August 2011
US $18.95

Add to Cart
This price is valid for United States. Change location to view local pricing and availability.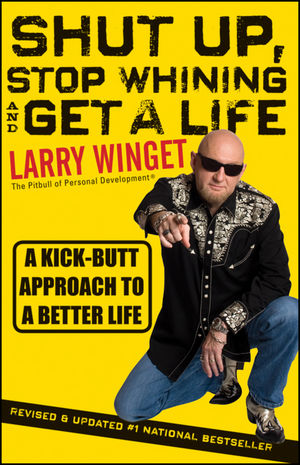 Other Available Formats:
E-book
July 27, 2011
Larry Winget Toughens Up Second Edition of Shut Up, Stop Whining, and Get a Life
Connect with Wiley Publicity
The first edition of Shut Up, Stop Whining, and Get a Life was immediately hailed as "not your average self-help book" and demanded attention and praise right out of the gate. It is now considered one of the icons of the personal development movement. Now, Larry Winget is back with his signature caustic, no-nonsense, hilarious style with a second edition of this national bestseller.
In Shut Up, Stop Whining, and Get a Life: A Kick-Butt Approach to a Better Life 2nd Edition, Revised and Updated (Wiley; Paperback and eBook; August 2011; $18.95; 978-1-118-02451-5) Winget expands on the same principles and toughens up the lessons he originally put forth using brand new examples, stories, and the wisdom he's gained as a media personality and self-help expert over the past 20 years.
"The things I talk about in this book are the result of thousands of hours spent reading thousands of books, and many years of gaining personal experience by living life the hard way – by screwing up and, every once in a doing things right as well," says Winget.
In Larry Winget's characteristic blunt style, Shut Up, Stop Whining, and Get a Life 2nd Edition, takes an in-your-face approach that forces readers to get off their butts and really change their lives. Winget's goal is to offer readers some truths that will change their prospective, make them think, and alter their results.
The book boils success down to a simple formula that is broken down into three parts:
Shut Up!: Chances are you are talking too much and need to listen
Stop Whining!: Wallowing in your problems doesn't fix your problems so stop complaining, blaming, griping, moaning and groaning, and take responsibility for your life
Get a Life!: Create the life you want by living by design and not by default. Make a decision, create a plan and then go to work to that plan come to life
"People buy into all of this happy self-help crap because the people sound good, and they make you feel good. The problem is, they don't produce many tangible results. Then folks get frustrated and disillusioned and end up abandoning their pursuits of being more, doing more, and having more," says Winget.
He encourages readers to look at their lives in a new light by:
Realizing your life is your own fault
Taking responsibility for it
Learning what you need to fix
Taking action on what you've learned
Knowing that hard work on the right things is the key to changing your results
Enjoying the results
"Business gets better when the people in the business get better; sales improve when salespeople improve; customer service improves when the people delivering it improve; and employees get better when their managers get better," adds Winget. "In other words, everything in life gets better when you get better, and nothing gets better until you get better."