Leader to Leader (LTL), Volume 62, Fall 2011
ISBN: 978-1-118-02590-1
64 pages
October 2011, Jossey-Bass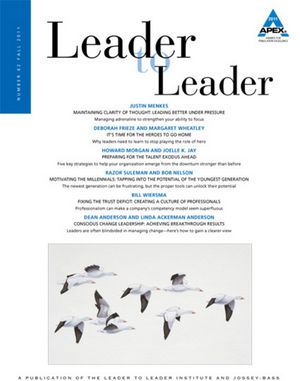 HESSELBEIN & COMPANY
Frances Hesselbein 4
In the Presence of Remarkable Leaders
Teaching and serving among thought- and action leaders.
Johnny D. Magwood 7
Navigating Expatriate Leaders' Competencies
How to bolster teamwork, productivity, and employee engagement in global cultures.
Wendy Axelrod and Jeannie Coyle 11
Make Talent Your Business
Five practices savvy leaders use to "grow people like crazy."
Debbe Kennedy 17
Moving Beyond Uncertainty: Overcoming Our Resistance to Change
Why leaders are often the biggest impediment to change—and what to do about it.
EXECUTIVE FORUM
Justin Menkes 22
Maintaining Clarity of Thought: Leading Better Under Pressure
Great leaders actually become more precise thinkers under stress.
Deborah Frieze and Margaret Wh eatley 27
It's Time for the Heroes to Go Home
It's up to us: we can't wait for a savior.
Howard Morgan and Joelle K. Jay 33
Preparing for the Talent Exodus Ahead
Talent management seems to have drifted off the radar in many organizations.
Razor Suleman and Bob Nelson 39
Motivating the Millennials: Tapping into the Potential of the Youngest Generation
Focusing on personal development, social interaction, and meaningful rewards can achieve wonders.
Bill Wiersma 45
Fixing the Trust Deficit: Creating a Culture of Professionals
How professionalism strengthens teamwork.
Dean Anderson and Linda Ackerman Anderson 51
Conscious Change Leadership: Achieving Breakthrough Results
Greater self-awareness and a more expansive leadership mind-set are essential for success.
FROM THE FRONT LINES
Why the Next CEO Should Come from Within 60
Hard data show that internal selections perform better than outsiders.
Giving Voice to Values: Building Ethical Muscle 61
How people can speak frankly and act on their values when they know what is right.
See More