Global Securities Markets: Navigating the World's Exchanges and OTC Markets
ISBN: 978-1-118-02771-4
192 pages
March 2011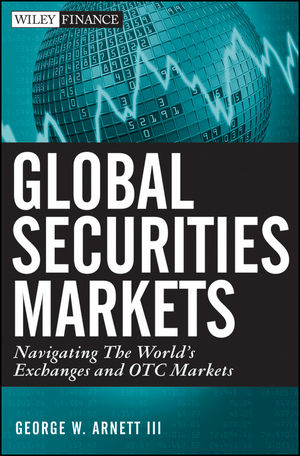 The quick guide to understanding the global securities markets
Investing in the global securities markets poses challenges far beyond simply choosing a security that's likely to provide a decent return. Global Securities Markets provides a framework for navigating through these highly diverse and complex markets, covering all the basics of global investing. Packed with tables and listings to help investors of all types easily locate the information they need to make the right choices, the book is an indispensible index for working the securities markets to their fullest extent. The book covers:
The mechanics of execution, clearing, settlement, custody, regulation, and practice in the US, UK, and European markets
Margin, short selling, prime brokerage, and the evolving disciplines of risk management, anti-money laundering, and international compliance
With 110 securities exchanges and 40 derivatives exchanges, it is more important than ever for the savvy investor to understand the global securities markets, and Global Securities Markets illustrates the rich history of the markets, how they work, and relevant contemporary legal concepts.
See More
Foreword.
Preface.
Introduction.
Chapter 1 Fundamental Concepts.
Legal Definition of Security.
North versus South (Debt versus Equity).
East versus West (Derivatives versus Funds).
Investors.
Brokers, Banks, and Advisors.
Physical Securities.
Agency.
Purchase and Sale of Securities and the Development of Exchanges.
Chapter 2 The Growth of Exchanges around the Globe and the Development of Screen Based Trading.
Chapter 3 The Paper Crunch and Development of New Institutions.
The Trust.
(Central Securities Depository.
Netting.
Central Counterparties.
Chapter 4 Central Counterparties and Depositories.
The Depository Trust and Clearing Corporation.
Euroclear.
ISINs.
Access to Information Regarding Euroclear Securities.
CREST.
Chapter 5 Major Worldwide Exchanges and their Associated Depositories, and Practical Tips on Execution, Clearance, and Custody in Various Regions Around the Globe.
Practical Commentary Concerning Trading, Clearing and Custody in Europe.
Practical Commentary Concerning Trading Clear and Custody in South America.
Practical Commentary Concerning Trading, Clearing and Custody in the Middle East and Africa.
Practical Commentary Concerning Trading, Clearing and Custody in Asia.
Passenger Markets.
Case Study Relating to Passenger Markets.
Chapter 6 Legal Framework of the World Markets.
A Brief History of U.S.Regulation.
The New Deal and Glass-Steagall.
The Panic of 2008 in Context.
The Pillars of U.S.Federal Securities Law.
A Recent History of European Legislation.
A Brief Comparison of U.S.Laws and EU Directives.
Chapter 7 Transfer of Securities and Perfection of Collateral.
Custody and Root of Title Internationally.
Chapter 8 Margin.
Chapter 9 Short Selling and Stock Loans.
Chapter 10 Derivatives.
The OTC Derivative Markets.
Why are OTC Derivatives Markets Regarded as More Risky than Exchange-traded Derivatives Markets?
The Role Derivatives Played in the 2008-09 Financial Crisis.
Legal Definition of Derivatives.
What Is a CDS?
Legal and Regulatory Framework of CFDs.
The Outlook for CFDs.
Chapter 11 Prime Brokerage.
Chapter 12 Managed Accounts.
History of Rule 3a-4.
Applicability of the Advisers Act.
Current SMA Exam Issues.
Issues for the Future.
Chapter 13 International Compliance.
The Four Horsemen of International Compliance.
Foreign Exchange Controls.
Tax Reporting.
Laws of Inheritance.
Non-Resident Alien Estate Tax.
Compliance Case Study.
Chapter 14 Money Laundering.
Anti-Money Laundering Case Study.
Chapter 15 SIPC and Other Investment Protection Schemes around  the World.
Protection of Customer Assets by SIPC and Excess SIPC Coverage.
Regulatory Obligations on Custody of Customer Funds and Securities.
Chapter 16 Risk Management.
Conclusion.
Afterword.
Glossary.
Further Reading.
About the Author.
Index.
See More
George W. Arnett III is Executive Vice President and General Counsel of HedgeMark Inter-national LLC, an affiliate of Pershing LLC. HedgeMark is a provider of risk analytics and a separately managed account platform for hedge fund investors. Prior to joining HedgeMark, Mr. Arnett was a Managing Director and Senior Managing Counsel for Pershing, a BNY Mellon Company, where he was responsible for legal oversight for international trading and operations, securities lending, domestic trading, Pershing Prime Services, Global Securities Services, Pershing Securities Limited (UK) and Pershing Managed Account Solutions. At Pershing, Mr. Arnett chaired its International Risk Committee, was a member of its Credit Committee and Pershing Ltd.'s Risk Committee, and served on BNY Mellon's Emerging Markets Portfolio Management Committee.
See More
Learn more about