Textbook
Advances in Health Care Organization Theory, 2nd Edition
ISBN: 978-1-118-02885-8
400 pages
July 2014, ©2014, Jossey-Bass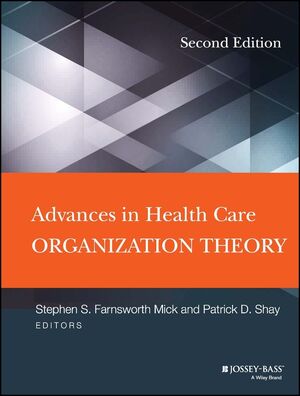 Explore the evolution of organization theory in the health care sector
Advances in Health Care Organization Theory, 2nd Edition, introduces students in health administration to the fields of organization theory and organizational behavior and their application to the management of health care organizations. The book explores the major health care developments over the past decade and demonstrates the contribution of organization theory to a deeper understanding of the changes in the delivery system, including the historic passage of the Patient Protection and Affordable Care Act of 2010. Taking both a micro and macro view, editors Stephen S. Mick and Patrick D. Shay, collaborate with a roster of contributing experts to compile a comprehensive volume that covers the latest in organization theory. Topics include:
Institutional and neo-institutional theory
Patient-centered practices and organizational culture change
Design and implementation of patient-centered care management teams
Hospital-based clusters as new organizational structures
Application of social network theory to health care
See More
Figures and Tables vii
Acknowledgments  ix
The Editors xi
The Contributors  xiii
1 Introduction: Events, Themes, and Progress   1
Stephen S. Farnsworth Mick and Patrick D. Shay
2 A Primer of Organization Theories in Health Care 25
Stephen S. Farnsworth Mick and Patrick D. Shay
3 Finding Strength in Numbers: Bringing Theoretical Pluralism into the Analysis of Health Care Organizations  53
Jacqueline S. Zinn and S. Diane Brannon
4 Explaining Change in Institutionalized Practices: A Review and Road Map for Research  79
Thomas D'Aunno
5 Mechanisms for Culture Change in US Health Institutions and the Example of the Nursing Home Industry  99
Jane Banaszak-Holl and Rosalind E. Keith
6 Managing to Care: Design and Implementation of Patient-Centered Care Management Teams  125
Douglas R. Wholey, Xi Zhu, David Knoke, Pri Shah, and Katie M. White
7 Remember It Is a Workplace: Health Care Organizations as Sociological Artifacts 153
Timothy Hoff
8 Differentiated, Integrated, and Overlooked: Hospital-Based Clusters  179
Patrick D. Shay, Roice D. Luke, and Stephen S. Farnsworth Mick
9 Profound Change inMedical Technologies: Time to Reexamine the Technology-Structure Nexus in Health Care? 205
Mary L. Fennell, Steven B. Clauser, and Miriam Plavin-Masterman
10 Social Network Analysis and the Integration of Care: Theory and Method   229
Timothy R. Huerta and Roberto Dandi
11 Complexity and Health Care: Tools for Engagement  259
James W. Begun and Marcus Thygeson
12 Synthesis and Convergence: The Maturation of Organization Theory 283
Stephen S. Farnsworth Mick and Patrick D. Shay
References 297
Name Index 355
Subject Index   369
See More
STEPHEN S. FARNSWORTH MICK, PHD, is professor in the Department of Health Administration at Virginia Commonwealth University and affiliate professor at the Jean Moulin University Lyon 3, in Lyon, France.
PATRICK D. SHAY, PHD, is assistant professor in the Department of Health Care Administration at Trinity University in San Antonio, Texas.
See More
Learn more about