The StockTwits Edge: 40 Actionable Trade Set-Ups from Real Market Pros
ISBN: 978-1-118-02905-3
Hardcover
341 pages
July 2011
US $65.00

Add to Cart
This price is valid for United States. Change location to view local pricing and availability.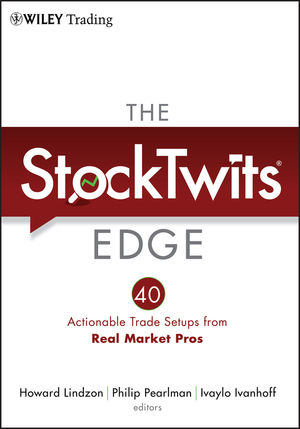 Other Available Formats:
E-book
June 23, 2011
The StockTwits Edge
Connect with Wiley Publicity
The social web and advances in technology have helped create tools and platforms that are empowering traders and investors. StockTwits (www.stocktwits.com) has emerged as the leading real-time social idea network for the investing community, providing its more than 100,000 community members worldwide a place to exchange ideas, receive real-time market insights, discover mind-liked people, leverage a community, build a publishing and research brand, and help monetize their work. StockTwits is the Facebook for finance, an American Idol or farm system for traders and investors, a virtual global trading floor.
For The StockTwits Edge: 40 Actionable Trade Setups from Real Market Pros (Wiley; July 2011; $65.00; 978-1-118-02905-3) StockTwits Co-Founder and CEO Howard Lindzon, Executive Editor Philip Pearlman, and Stocktwts50.com writer Ivaylo Ivanhoff, invited 46 of the community members who love, live, and breathe the markets to write about their favorite setup—a combination of factors that need to align in time and space in order to produce a buy or sell signal. Each trader presents a favorite setup in detail as well as the approach for finding new ideas and managing risk. They explain which factors are important and how they use the setup to the trade successfully on a daily basis.
"I follow and trust all the contributors mentioned in the book and have learned so much in such a short time – I believe any investor can too," said Howard Lindzon, co-author of StockTwits Edge and co-founder and chief executive officer at StockTwits. "The great part about this book is the fact that it's an introduction to amazing investors and traders that you can actually follow and interact with everyday at StockTwits.com."
The book covers a wide range of topics that can help improve trading endeavors, including:
Trend following
Value investing
Day trading
Swing trading
Options trading
Forex trading
The art of trading
Contributors range from well-known professionals to individual traders, from those who have been trading for years to those who have been in the business a short time; but they all share an amazing focus and belief that if you can master one thing well in the markets, you can succeed.
While there are many factors involved in successful trading and investing, the ability to identify profitable situations is paramount. The StockTwits Edge arms traders with ideas that help them make the most of their time in today's markets.