E-book
Microfluidic Devices in Nanotechnology: Applications
ISBN: 978-1-118-02933-6
407 pages
November 2010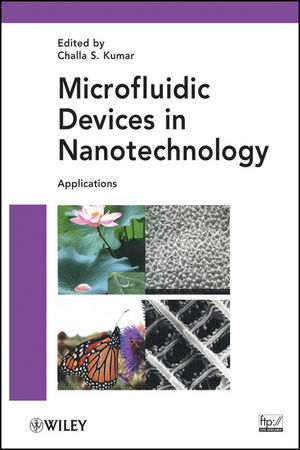 Explores the latest applications arising from the intersection of nanotechnology and microfluidics
In the past two decades, microfluidics research has seen phenomenal growth, with many new and emerging applications in fields ranging from chemistry, physics, and biology to engineering. With the emergence of nanotechnology, microfluidics is currently undergoing dramatic changes, embracing the rising field of nanofluidics.
This volume reviews the latest devices and applications stemming from the merging of nanotechnology with microfludics in such areas as drug discovery, bio-sensing, catalysis, electrophoresis, enzymatic reactions, and nanomaterial synthesis. Each of the ten chapters is written by a leading pioneer at the intersection of nanotechnology and microfluidics. Readers not only learn about new applications, but also discover which futuristic devices and applications are likely to be developed. Topics explored in this volume include:
New lab-on-a-chip systems for drug delivery

Integration of microfluidics with nanoneuroscience to study the nervous system at the single-cell level

Recent applications of nanoparticles within microfluidic channels for electrochemical and optical affinity biosensing

Novel microfluidic approaches for the synthesis of nanomaterials

Next-generation alternative energy portable power devices
References in each chapter guide readers to the primary literature for further investigation of individual topics. Overall, scientists, researchers, engineers, and students will not only gain a new perspective on what has been done, but also the nanotechnology tools they need to develop the next generation of microfluidic devices and applications.
Microfluidic Devices for Nanotechnology is a two-volume publication, the first ever to explore the synergies between microfluidics and nanotechnology. The first volume covers fundamental concepts; this second volume examines applications.
See More
Preface.
Contributors.
1 Microfluidics for Nanoneuroscience (Pamela G. Gross and Emil P. Kartalov).
2 Nanoporous Membranes-Based Microfluidic Biosensors (Shalini Prasad, Yamini Yadav, Manish Bothara, Vindhya Kunduru, and Sriram Muthukumar).
3 Nanoparticle-Based Microfluidic Biosensors (Giovanna Marrazza).
4 Microfluidic Enzymatic Reactors Using Nanoparticles (Chunhui Deng and Yan Li).
5 Microfluidic Devices for Nanodrug Delivery (Clement Kleinstreuer and Jie Li).
6 Microchip and Capillary Electrophoresis Using Nanoparticles (Muhammad J. A. Shiddiky and Yoon-Bo Shim)
7 Pillars and Pillar Arrays Integrated in Microfluidic Channels: Fabrication Methods and Applications in Molecular and Cell Biology (Jian Shi and Yong Chen).
8 Nanocatalysis in Microreactor for Fuels (Shihuai Zhao and Debasish Kuila).
9 Microfluidic Synthesis of Iron Oxide and Oxyhydroxide Nanoparticles (Ali Abou-Hassan, Olivier Sandre, and Valerie Cabuil).
10 Metal Nanoparticle Synthesis in Microreactors (Peter Mike Günther, Andrea Knauer, and Johann Michael Kohler).
Index.
See More
CHALLA S. KUMAR, Ph.D, is Director of Nanofabrication and Nanomaterials at the Center for Advanced Microstructures and Devices at Louisiana State University in Baton Rouge. In addition, he is President and CEO of Magnano Technologies. Dr. Kumar is the winner of the 2006 Nano 50 Technology Award for his work in magnetic-based nanoparticles for cancer imaging and treatment. His research interests are in developing novel synthetic methods, including those based on microfluidic reactors, for multifunctional nanomaterials. He has eight years of industrial R&D experience working for Imperial Chemical Industries and United Breweries. He is the Series Editor for the multi-volume book series, Nanotechnologies for the Life Sciences (NtLS) and Nanomaterials for the Life Sciences(NmLS), published by Wiley-VCH. A former editor of the Journal of Biomedical Nanotechnology, Dr. Kumar is the author of numerous books and original research papers.
See More