Textbook
The Bloomberg Way: A Guide for Reporters and Editors
ISBN: 978-1-118-03017-2
Paperback
376 pages
November 2011, ©2012
US $45.00

Add to Cart
This price is valid for United States. Change location to view local pricing and availability.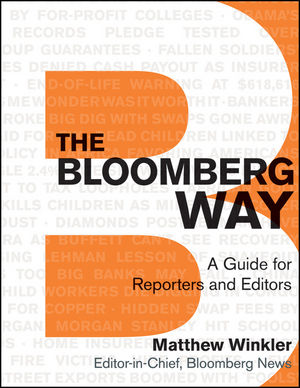 Other Available Formats:
E-book
November 22, 2011
The Bloomberg Way
Connect with Wiley Publicity
The Bloomberg Way Guide for Reporters and Editors Now Available to the Public
Royalties from Sales to Benefit the Committee to Protect Journalists
The Bloomberg Way, the reporting and style guide written by Bloomberg News Editor-in-Chief Matthew Winkler, will be made available to the public for the first time. For 21 years, The Bloomberg Way has guided Bloomberg News reporters and editors worldwide through the challenges of reporting and providing context to the story of money in all its forms.
As Wall Street and the global economy dominate news headlines, financial reporting is more important than ever. The Bloomberg Way illustrates Winkler's approach to delivering fast, in-depth and accurate reporting. The guide will serve as a resource for journalists, students, business professionals, and everyone who wants to write about money and get it right.
Under Winkler's leadership, Bloomberg News is a two-time Pulitzer Prize finalist and has received more than 600 awards, including: the Roy W. Howard for Public Service, George Polk, Gerald Loeb, Overseas Press Club, Sidney Hillman, Investigative Reporters & Editors, Society of Professional Journalists (Atlanta, Chicago, Los Angeles and New York chapters) and Society of American Business Editors and Writers.
"At Bloomberg, we believe in fast, accurate reporting and we want to share our best practices with seasoned and aspiring journalists who strive for the same results," said Winkler. "We've lived by the principles of The Bloomberg Way for 21 years. As the economy has gone from one of the world's central topics to the great story of our time, we hope this guide will help others as much as it's helped us."
Principles of The Bloomberg Way include:
• Use The Five Fs: factual word, first word, fastest word, final word, and future word
• Be accurate: there is no such thing as being first if the news is wrong.
• Show, don't tell: back up statements with facts, figures and anecdotes.
• Follow the money: explain the role of money in all its forms to reveal the true meaning of the news.
The Bloomberg Way informs as it instructs on topics that range from conducting effective interviews to analyzing financial reports to fulfilling the imperative for accuracy and integrity in gathering and publishing news.
Royalties from sales of The Bloomberg Way will benefit the Committee to Protect Journalists.
About the author:
Matthew Winkler is editor-in-chief of Bloomberg News, the global news service he founded with Michael Bloomberg in 1990 when he joined the then eight-year-old financial information company Bloomberg L.P. He became a member of the Bloomberg L.P. board in 2006.
Prior to joining Bloomberg News, Winkler wrote the Capital Markets column for Forbes magazine and was a reporter for the Wall Street Journal, Barron's, and news services of parent Dow Jones & Co. In addition to The Bloomberg Way, Winkler is co-author of Bloomberg by Bloomberg (April 1997, John Wiley & Sons).
What others say about The Bloomberg Way:
"The Bloomberg Way raises the professional bar for everyone who covers, follows, or makes decisions based on business and economic news. In the crush of global financial information, Bloomberg's distinctive style and mindset deliver clarity, accuracy, and speed to decision-makers every second of every day. This sophisticated book for the first time explains to all of us exactly how all of this is accomplished. It is an impressive read for everyone." --Christopher Callahan, Dean and University Vice Provost, Walter Cronkite School of Journalism and Mass Communication, Arizona State University
"The Bloomberg Way defines excellence in reporting and writing news of business and money. Winkler does what he directs his reporters and editors to do: report thoroughly, write crisply without characterizations, employ details, examples and context to show rather than tell. In doing so, he reveals the professionally disciplined Bloomberg culture he has built and provides a precise and illuminating guide for rigor and excellence. Winkler calls The Bloomberg Way our guide to learning. It is that and more."
--Sandy Rowe, Chairman of the Committee to Protect Journalists
"Authoritative, comprehensive, and only occasionally intimidating, The Bloomberg Way tells you everything you need to know about producing top-notch financial journalism, from bylines to 'trashlines' and from abbreviations and acronyms to weights and West."
--Paul E. Steiger, editor-in-chief, ProPublica