E-book
An Executive's Guide to Fundraising Operations: Principles, Tools and Trends
ISBN: 978-1-118-03029-5
256 pages
February 2011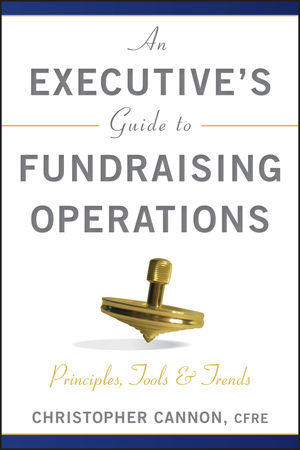 A straightforward guide to the principles of effective fundraising operations
An Executive Guide to Fundraising Operations provides fundraisers with easy-to-understand approaches to evaluate and address fundraising operations needs and opportunities. This guide simplifies and focuses on the analysis of problems and needs, allowing a quick return to fundraising.
Provides the essential framework to improve and innovate development operations
Includes dozens of practical tools, including sample policies for data, database, reporting, and business processes
Offers sample workflow illustrations for gift processing and acknowledgment, report specification, and other processes
Features sample reports for campaign management, performance management, and exception management
Delivers effective calculators for operational rules of thumb
No matter what the department is called, most fundraisers struggle with evaluating operational issues. This guide leads you through principles of effective fundraising operations, simplifies complicated topics, and offers solutions to some of the most vexing operations dilemmas.
See More
Foreword xiii
Preface xvii
Acknowledgments xix
CHAPTER 1 Introduction 1
Supporting Fundraising 2
What Is Fundraising Operations and Where Should It Fit in the Organization? 2
Fundraising Operations: What's in a Name? 3
What Does ''Fundraising Operations'' Include? 5
Organizational and Environmental Factors Shape Operations 8
Using This Guide to Improve Decisions 13
CHAPTER 2 Principles of Fundraising Operations 15
Data, Technology, Reporting, Process, and People 16
Data 18
Technology 31
Reporting 34
Processes as Key Responsibilities 39
People 41
CHAPTER 3 Responsibilities of Your Fundraising Operations Team 51
Technology Management 51
Primary Roles in Transitions: Arbiter and Advocate 52
Data Maintenance 68
Gift Processing 70
Reporting 75
Prospect Development 79
Stewardship 88
Compliance 92
IT, HR, Finance, and More 98
A Special Note about Finance 100
CHAPTER 4 Program Support 103
Major Giving 104
Annual and Unrestricted Giving 104
Constituent Engagement Programs 107
Events 107
Special Initiatives or Constituencies 110
Healthcare Fundraising and Grateful Patient and Family Programs as Special Cases 111
Moving from Fundamentals to Innovations 113
CHAPTER 5 Trends, Fads, and Staying Ahead of the Curve 115
Which Curve? 116
Applying Principles to Trends 120
Volume, Accessibility, and Ubiquity of Data 122
Consumer Data, Analytics, and Ethics 124
Virtualization, Web Applications, and Mobility 127
Social Media Mania 132
Evolving Applications for Evolving Technologies 136
Advances in Reporting and Analytics 143
New Staff and Performance Considerations 148
Fast-Moving Trends 158
CHAPTER 6 Decision Advice from the Field 161
Ideas from Practitioners 162
Development Executive at a Leading Australian University 162
Children's Healthcare Foundation President 163
Fundraising Operations Consultant 164
Liberal Arts College Vice President 166
Advancement Leadership at a Division I University 167
University System Operations Assistant Vice President 169
Healthcare Executive Director of Development 170
Executive Director at a Top 10 University 171
Development Director at a Leading Medical Center 172
Making Your Executive Decisions 172
CHAPTER 7 Tools for Fundraising Operations 175
Fundraisingoperations.com 175
Data 176
What Are the 10 Signs of Bad Data? 176
How Do You Know Your Data Are Accurate? 178
Technology 178
What Are the Five Myths of the Conversion Process? 178
What Does a Data Exception Log Look Like? 180
How Effective Is the Implementation of Your Database? 181
What Does a Sample Scorecard Look Like? 182
Reporting 182
What Are the Seven Qualities of a Great Reporting Environment? 182
What Are Five of the Most Important Types of Reports for Campaign and Prospect Management? 184
What Does an Effective Data Dictionary Look Like? 189
Processes 189
How Can You Calculate and Establish Impact Measures for Your Operations Team? 189
How Can You Gauge Good Training Outcomes? 190
How Can You Evaluate Your Gift Processing? 190
What Does the ''Front-of-the-Line'' Approach Look Like for Gift Processing? 193
How Should Gift Processing Assess Donor's Checks? 194
What Does a Good Staff Survey on Operations Look Like? 194
How Can You Start a Great Prospect Management System? 196
Staff 199
What Are the 10 Characteristics of Great Operations Team Members? 199
What Are the Five Signs Team Members Are Looking for New Positions? 200
How Can You Assess Staff Performance of the Operations and Other Teams? 201
Epilogue 205
Appendix A: Sample Data Dictionary 211
Appendix B: APRA Statement of Ethics 220
Glossary 221
Bibliography 225
About the Author 227
AFP Code of Ethical Principles and Standards 229
A Donor Bill of Rights 230
Index 231
See More
CHRISTOPHER CANNON, CFRE, is a managing associate with Bentz Whaley Flessner, a full-service development consulting firm serving higher education, healthcare, and nonprofits. Mr. Cannon partners with clients around the world to leverage their data, technology, and processes to foster increased fundraising results. His presentations and writing, such as recent articles in AHP Journal and AFP's Advancing Philanthropy, focus the fundraiser on aligning fundraising operations with the organization's programs and mission.
See More
More in this series