E-book
Smart or Lucky?: How Technology Leaders Turn Chance into Success
ISBN: 978-1-118-03381-4
256 pages
April 2011, Jossey-Bass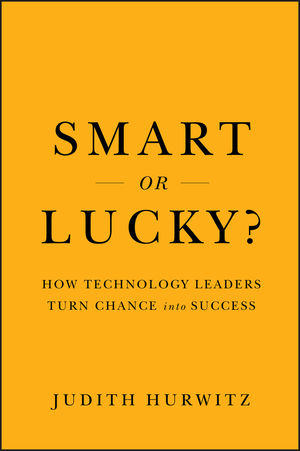 Smart or Lucky? How Technology Leaders Turn Chance into Success
About the Book:
An insider's look at the combination of luck and smarts you need to succeed in today's changing tech world.
To be successful in any highly competitive market, you have to be smart, but you also have to be lucky by being at the right place at the right time. The most successful technology entrepreneurs understand the value of the combination of luck and smarts and make it work for them. Those who fail are the ones who may be lucky but get complacent, believe they're the smartest players in the market, and fail to make the changes needed to sustain leadership. Smart or Lucky? is for business leaders who are interested in learning what it takes to be successful in emerging markets and how to sustain success over the long term. It shows entrepreneurs how to recognize a lucky break and have the foresight to take advantage of it.
Offers concrete lessons based on well-tested principles that have broad applications for business leaders and entrepreneurs across industries
Based on experiences with hundreds of successful and failed companies in the software market over three decades
Author's method has resulted in expanded revenue and increased market success for both large and small companies
Informative and highly detailed, this is a must-read for all business leaders and emerging entrepreneurs who want to understand how to stay nimble and succeed in complicated, competitive markets.
See More
Introduction.
1 Lightning Doesn't Strike Twice.
What Happens When You're Lucky but Think You're Smart.
2 Gaining and Retaining Customers.
How to Get Customers to Adopt and Commit to Technology.
3 You're Not Dead Yet.
How Some Companies Come Back from Near Death Experiences.
4 The Google Sneak Attack.
Supplanting the Market Leader.
5 Hero Worship.
Gaining Loyalty by Helping Your Customers Find Personal Success.
6 Lessons from the Lemmings Era.
How Out-of-Control Dot-Coms Fueled the Future
7 The Gotcha Syndrome.
Why Promising Technologies Fail.
8 Standing on the Shoulders of the Pioneers.
How Lessons Learned from the Past Pave the Way for New Technology.
9 The Silver Bullet Syndrome.
Beware of Solutions That Appear Too Good to Be True.
10 Splitting Up Is Hard to Do.
When Walking Away from Legacy Products Makes Sense.
Conclusion: Ten Rules for Turning Luck into Sustainable Success.
Notes.
Acknowledgments.
About the Author.
Index.
See More
Judith Hurwitz is President and CEO of Hurwitz & Associates, a strategy consulting and research firm focused on emerging computing technologies.
See More