E-book
Wiley CPA Examination Review Focus Notes: Regulation 2011
ISBN: 978-1-118-03480-4
277 pages
November 2010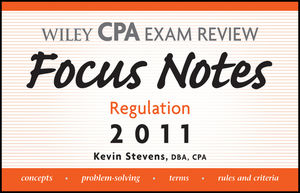 This book uses acronyms and mnemonic devices to help candidates remember the accounting rules and checklists needed to pass the exam. It provides a thorough review of all basic skills and concepts need for the exam. The new computerized CPA exam includes one or two case study simulations in each section, approximately 20-40 minutes in length, that will require candidates to perform research activities, use common spreadsheet and word processing functions, and use a financial calculator or spreadsheet to perform financial calculations. In order to assist candidates in successfully performing these simulations, Wiley Focus Notes include references to authoritative literature, sample spreadsheets, and key concepts, tips and tools to facilitate research
See More
Preface.
About the Author.
Professional and Legal Responsibilities.
Federal Securities Acts.
Business Structure.
Contracts.
Sales.
Commercial Paper.
Secured Transactions.
Bankruptcy.
Debtor-Creditor Relationships.
Agency.
Regulation of Employment & Environment.
Property.
Insurance.
Individual Tax.
Transactions in Property.
Partnership Tax.
Corporate Tax.
Estates & Trusts.
Index.
See More
Kevin Stevens, DBA, CPA, is the director of the School of Accountancy and Management Information Systems at DePaul University. He is full professor of accountancy and is a registered certified public accountant in Illinois. He has taught for many years in DePaul's CPA review program and at both the graduate and undergraduate levels. He holds a doctoral degree in business administration (accountancy) from the University of Kentucky, a master's in taxation from DePaul, a master's in accounting from the University of Illinois at Urbana and a bachelor's degree in Political Science from Loyola University, Chicago.
See More