E-book
Michael Allen's Online Learning Library: Successful e-Learning Interface: Making Learning Technology Polite, Effective, and Fun
ISBN: 978-1-118-03685-3
150 pages
June 2011, Pfeiffer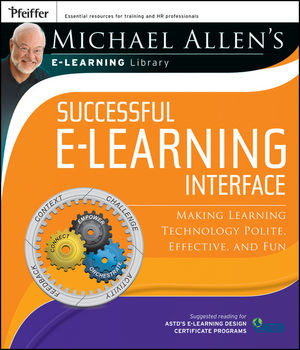 Most e-learning is designed using instructional model that were first introduced more than thirty years ago as a solution to classroom training, In this must-have book, Allen reviews the basics of instructional design and then lifts the lid on some common misconceptions that arise from what people think they know about ISD. Although e-learning benefits from all the traditional characteristics of instructional design, it also has unique requirements, so Allen focuses on how to think differently about ISD and shows where and how it needs to be modified to make applicable to the unique world of e-learning.
See More
About the Library Series iii
Acknowledgments ix
Foreword xiii
Preface xv
Part One: The Need for Learner Interface Design Excellence 1
Challenges: User Interface vs. Learner Interface 3
Chapter 1 Design Magic 13
Chapter 2 Introducing the CEO of LID 21
Chapter 3 CCAF 29
Part Two: Learner Interface Design Guidelines 45
Chapter 4 C Is for Connect 47
Chapter 5 E Is for Empower 67
Chapter 6 O Is for Orchestrate 85
Part Three: Good and Bad Influences 107
Chapter 7 Fatal Attractions 109
Chapter 8 Doing the Right Things Versus Doing Things Right 119
Part Four: Examples 143
Chapter 9 Examples 145
Challenges: UI vs. LI Answers 167
Learner Interface Design Guidelines 177
Index 213
About Allen Interactions Inc. 229
About the Author 230
See More
Michael W. Allen pioneered multimedia learning technologies, interactive instructional paradigms, and rapid-prototyping processes, bringing each forward into leading corporate enterprises. He is the chairman and CEO of Allen Interactions Inc., a company that builds universally acclaimed custom e-learning, provides strategic learning consulting, and trains e-learning professionals in collaboration with ASTD. With a Ph.D. in educational psychology from The Ohio State University, he is an adjunct associate professor at the University of Minnesota Medical School, a popular conference speaker, and a prolific writer.
See More